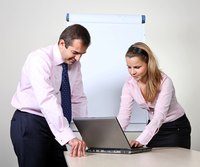 Earning a degree in marketing opens the door for a wide range of careers. Marketing can be one of the most versatile major options, with opportunities available in retail, public relations, real estate, insurance and other areas of business. Career options in marketing do not require a specific degree but rather a certain skill set in areas such as communications, consumer behavior, PR, business and research. Openings in many marketing jobs are expected to increase through the 2018 decade, according to the Bureau of Labor Statistics.
Purchasing Manager
Marketing skills are essential if you take on a job in purchasing. Purchasing managers working for private companies are responsible for choosing high-quality products for resale. They must understand supply and demand to find products that will earn their companies a profit; understanding consumer behavior is vital. Using effective strategies to secure the best deal with suppliers is also important. Although marketing skills are needed in lower-ranking purchasing positions, managers in particular may have additional marketing and logistic responsibilities. The average salary for purchasing managers is $96,910, according to the 2009 Bureau of Labor Statistics data.
Market Researcher
Majoring in marketing prepares you for working in market research, although earning a graduate degree in the field may be necessary to land a more advanced position. Market researchers study consumer behavior through collecting information with surveys, interviews and focus groups. They analyze this information to help companies develop new products and make the best financial decisions. Market researchers also use their findings to make recommendations for improving customer satisfaction. Some may work in the political arena, helping candidates develop effective messages and garner support from the public. Researchers earn $67,500 on average, according to Bureau of Labor Statistics' 2009 data.
Public Relations Specialist
You don't need a degree in PR to work as a public relations specialist; majoring in marketing is also another avenue into the field. PR specialists work in a variety of industries including business, higher education, health care and politics. They serve as liaisons between the public and their clients or employers. Specialists strive to foster positive relationships between the two. Marketing skills are key to effectively understand the public and develop strategies that will put the client or employer in a positive light. They earn an average of $59,370 annually, according to the 2009 Bureau of Labor Statistics' occupational information.
Advocate
Working as an advocate requires solid marketing knowledge, whether you work for a labor union, charity or civic organization. Advocates need excellent communication skills because their primary task is to promote their organization and get others to join or support them. Animal welfare organizations, for example, need advocates to develop marketing plans that will increase awareness and donor revenue. Some may specialize in grant writing to land funds that will support their organization's efforts. Those working in grant making and professional organizations earn the most with an average hourly wage of about $21 to $22, according to 2008 Bureau of Labor Statistics data. Advocates working for civic organizations earn the lowest income at about $12 an hour.