Emergency room technicians help doctors and nurses take care of patients during harrowing and critical times. Most often, techs take blood samples, start IVs, conduct basic medical tests and help with the clerical work of admitting and treating patients. The position can be an excellent place to start for those looking to break into the medical field, and looking at compensation levels can help job seekers assess the career.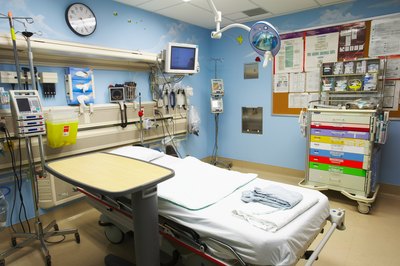 National Averages
A PayScale survey of 461 emergency room technicians in December 2010 finds that average salaries for the job range from $23,236 to $32,802. Additionally, the survey shows that hourly wages range from $10.55 to $14.89. These figures include bonus and overtime pay.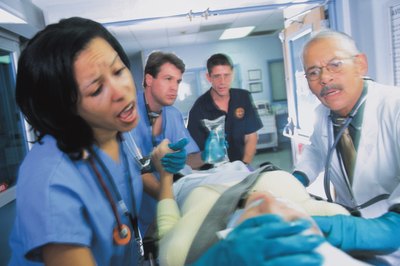 Experience
PayScale's data shows that gaining experience as an ER tech leads to significant increases in average pay. For instance, techs with one to four years of experience earn between $24,566 and $27,932 per year. With five to nine years of experience, however, average salaries range from $29,652 and $39,008.
Gender
PayScale's survey reveals some interesting information when broken down by gender. Average salaries for female emergency room technicians spans from $24,417 to $37,200. For males in the same position, however, the pay range reaches beyond $45,000.
Benefits
Whether searching for a temporary job to help break into the medical field or a long-term career, noncash benefits are an important addition to a job's compensation package. PayScale's results show that 69 percent of ER technicians are awarded medical coverage. Furthermore, 58 percent and 47 percent of techs receive dental and vision care, respectively.