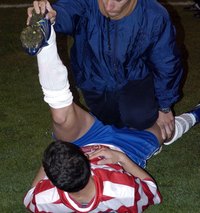 Virtually every college or university in the United States has multiple athletic teams and coaches to lead them. Each head coach usually has one or more assistant coaches to not only help him direct the team, but also to offer advice and instruction in areas of expertise. Other responsibilities may include recruitment, equipment purchase and maintenance, athletic event coordination, and communication with other faculty or university administrative staff. The average salary of a college level assistant coach can vary depending on several factors.
Qualifications
Most assistant coaches will have learned the vast majority of their skills and abilities from a lifetime of playing, watching, studying, and coaching sports. The majority of full time or non-adjunct college assistant coaches will have to possess at least a bachelor's degree. They will also need to be able to demonstrate extensive knowledge of the sport or sports they will coach, including rules and regulations, strategies, and history. Credentials from previous experience such as coaching teams to championships or earning sports education awards will also help a candidate.
Location
The cost of living where a college or university is located may have an influence on an assistant coach's salary, as it does with most other professions. However, frequently higher salaries can be obtained in areas where college sports are more popular and therefore well funded. For example, an assistant coach will average from $24,434 to $44,300 a year in the state of Illinois. However, in Texas, a state known to have many colleges with alumni that go on to play at the professional level, an assistant coach will average between $34,564 to $53,959 annually, according to Payscale.com as of December 2010. The national average salary for an assistant coach in the U.S. is $39,316, reports Salary.com in December 2010.
By Sport
Assistant coaches often instruct multiple sports as part of their position obligations. However, a coach who specializes in a certain area may be paid more or less depending on the level of demand. A college with a more prestigious or historically successful football team may pay the assistant coach more than if he or she were to teach a less popular sport on the same campus.
Experience and Higher Pay
The most experienced assistant coaches, especially those with significant career achievements, can easily make exponentially higher salaries as they are hired by schools with enormous athletic payrolls. Joe Kines, an assistant coach at Texas A&M University, a school famous for its football team, was paid a base salary of $400,000 in 2009, ranking him as the 12th highest paid assistant in NCAA colleges. In 2009 the highest paid college assistant coach had a salary of $1.2 million while the lowest paid assistant coach was paid $25,008, according to USA Today.