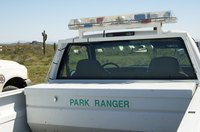 New Jersey offers two paths to becoming a park ranger (there is no "forest" designation). You can become a park ranger with the National Park Service (NPS) or a conservation officer with the New Jersey Department of Environmental Protection's Division of Fish & Wildlife. Each position requires similar education and experience requirements, although New Jersey conservation officers are law-enforcement officials who require law-enforcement experience. Some, but not all, National Park Service rangers are law enforcement officials. New Jersey state parks don't employ rangers or guides, and are patrolled by state police officers.
Education
Although no official educational guidelines exist for entry-level positions, bachelor's degrees are required for higher-level classifications and management positions. Helpful and related fields of study include botany, conservation, wildlife management, forestry studies, parks and recreation, public administration and law enforcement or criminal justice. Law enforcement officers looking to move into the park service would need an associate's degree in a one of the above fields. Classifications range from GS-0025-03 to GS-0025-13.
New Jersey Conservation Officer
A bachelor's degree is required in environmental sciences, natural resource management or biological science. An additional 24 credit hours are needed in a combination of fisheries science, wildlife, natural resource management and/or biological science. (See References 2) Management positions may require a master's degree.
Volunteer Experience
Contact a New Jersey national park and apply or volunteer to work. Any position is appropriate to gain experience within the park system.
To be a New Jersey Conservation Officer volunteer with the New Jersey Wildlife Conservation Corps. Not only will you familiarize yourself with the park system, but you will develop important contacts that can aid you in securing your desired position.
Job Experience
Depending on the job you seek, a position in a related field obviously will assist you in your National Park Service job search. If you're seeking a law-enforcement position, you'll need municipal police or similar experience. Acquiring first-response emergency training also will help and is actually required for some positions.
To be a New Jersey Conservation Officer, you need a minimum of one year of law-enforcement experience. Additional experience in wildlife, hatchery, hunting or related occupations will help when you apply. As a conservation officer, you'll be assigned to one of several divisions, such as fish & wildlife enforcement or marine enforcement, so a combination of law-enforcement and environmental experience is ideal.
Applying
To be a National Park Service Ranger, you must apply through the U.S. Office of Personnel Management. There must be a listed current job opening in order to apply, and you'll be required to complete a security test.
To be a New Jersey Conservation Officer, you must secure an application through the New Jersey Department of Environmental Protection. Most are available online if there is a current opening.