According to The Brookings Institution, American exports accounted for approximately 13 percent of national economic output, as of May 2014. This is a small percentage of total economic output, but it's by no means insignificant to the U.S. and its workers. Although the top U.S. exports change over time, categories such as transportation equipment, entertainment products, fuel and food always rank high among products and services sent overseas.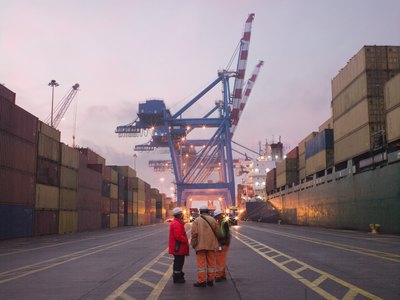 Transportation Equipment
Trains, commercial trucks, trailers and other moving equipment are major U.S. exports. The Brookings Institution notes that transportation equipment accounted for approximately 22.6 percent of total export growth in 2012. Most of this equipment is used for industrial or commercial purposes. The exports help other countries do everything from drive their economy to build infrastructure. As emerging economies around the globe continue to develop, it's likely the demand for U.S. transportation equipment will grow as well.
Movies and Entertainment
Royalties and licensing fees for TV shows, movies, music and other forms of branded entertainment are a major export from the United States. As online content distribution becomes more mainstream, the export of movies and entertainment is only expected to grow. In 2014, Hollywood continued to rely on its overseas ticket sales to make money on its big-budget, blockbuster movies. American culture and idealism are also being exported when entertainment is consumed in Western Europe, Eastern Europe and Asia, among other parts of the world.
Fuel
Although the United States consumes its fair share of oil, gasoline and jet fuel, it's also an exporter of these products for a number of reasons. According to USA Today, larger numbers of fuel-efficient vehicles and economic weakness have spurred fuel exports. The U.S. political environment, global conflicts, clean energy innovations and economic conditions all affect the volume of U.S. fuel exports. In 2014, it was one of the main products shipped to countries around the globe.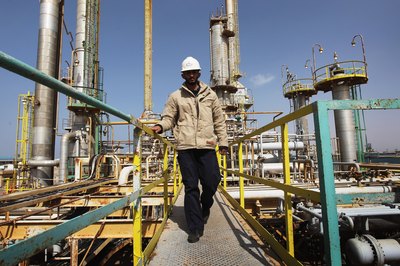 Food
America also exports a wide variety of agricultural products. This includes everything from apples and oranges to lettuce and cabbage. Food products accounted for 1.6 percent of total export growth in 2012. It continues to be an export with serious repercussions for other countries and people around the world that depend on U.S. food and related goods for their survival. However, political sanctions and other conflicts directly affect the volume of food the United States exports.