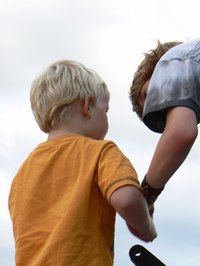 The annual income home day care workers earned per child in 2009 ranged from $3,500 to $11,900, depending on location, according to the National Association of Child Care Resource and Referral Agencies. That comes to an estimated $17,500 to $59,500 for providers caring for five children, for example. Your income potential depends largely on the number and age of the children for whom you provide care.
Factors
As a family child care provider, you have the flexibility of setting your own rates, fees and hours, explains the National Association for Family Child Care. Although you determine how much you charge clients for child care, your rates need to be competitive for your region. If you charge more than other area providers, you may find it difficult to fill your openings. On the other hand, if you pursue accreditation and invest in a high-quality child care program, parents may be willing to pay extra for small group care.
Variables
Home child care workers in South Carolina earned the least per infant in 2009, bringing in $3,582 per infant. The highest earners for infant care, Massachusetts providers earned $11,940 per infant, according to the National Association of Child Care Resource and Referral Agencies. Mississippi providers earned $3,380 a year for preschoolers in 2009, while Massachusetts providers earned $11,475 per preschooler. Home day care workers living in urban areas earn significantly more than rural-based providers, sometimes earning more than 100 percent more than those in rural communities.
Earning Potential by State
While Massachusetts providers represent an extreme in home day care earning potential, the lower-paid South Carolina providers are not so far off from the average. The average home day care income per child in most states ranges from $4,000 to $8,000. Providers in New York are the only other home-based child care workers who earn a five-digit average per infant. New York providers make slightly less for preschoolers, earning an average of $9,474 per 4-year-old.
Considerations
The Bureau of Labor Statistics estimates that 33 percent of day care providers are home-based workers. Child care workers across the board earned a median wage of $9.12 per hour in 2008. Depending on where you set your rates and how you manage your expenses, you can generally expect to earn more working from your own home. However, home-based care costs you in other ways, specifically in home maintenance, cost of food and higher utilities. You can help offset food expenses by participating in the USDA Child and Adult Care Food Program, which reimburses you for food expense based on fixed meal and snack rates.