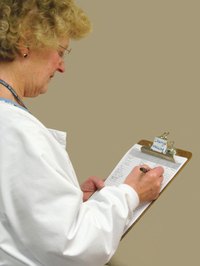 Seeking a salary as a registered nurse, or RN, puts a person in the largest contingent of health care professionals in the country. Registered nurses spend their time on a number of activities, from lecturing communities, schools and groups about health care and safety to caring for patients on-site at a doctor's office or hospital. Registered nurses also may take supervisory positions over other nurses and nurses' aides, along with specializing in an area such as pediatrics, oncology or diabetes management.
The Facts
After polling registered nurse salaries across the country, the U.S. Department of Labor Bureau of Labor Statistics determined a 2009 wage for the profession as $31.99 per hour. The BLS also rated a number of industries as the top payers for registered nurses salaries, all above the country's median. Medical equipment and supply manufacturers took the top spot, paying RNs $37.44, followed closely by the federal executive branch of the government and civic organizations, both paying $37.42 per hour.
Location
Registered nurses working on the outer edges of the country's landscape earned higher salaries than their mid-country colleagues. The top-paying state for registered nurse salaries in 2009 was California, with an hourly mean wage of $40.90. Massachusetts paid its registered nurses $39.32 per hour, followed by Hawaii at $38.47 per hour. Both Maryland, at $36.70, and New Jersey, at $36.05, were significantly above the national median.
Considerations
While the three paths of entry to earning a salary as a registered nurse include a short-term diploma, two-year associate's degree and four-year bachelor's degree, the BLS recommends either of the degree options for the best chances at securing a salary. Prospective registered nurses have hundreds of options at community colleges, technical schools and universities across the country accredited by the National League for Nursing Accrediting Commission. Prior to practicing, nurses must take the National Council Licensure Examination and may have other requirements, certifications or exams on a per-state basis.
Outlook
Prospects for persons interested in attaining salaries in the registered nursing field are good, according to the BLS, which expects a continued 22 percent growth rate and additional 581,500 jobs through 2018. The BLS recommends home health care services, long-term rehabilitation centers and residential care settings as the best opportunities to secure salaries as RNs.