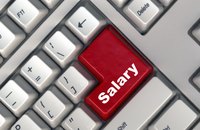 From computer technology organizations to advertising companies, professional project managers are responsible for overseeing all aspects of specific company projects. The salary range a project manager can expect to earn depends upon the company and industry as well as his experience level and the area in which the company is located.
Average Salary
The salary range for a project manager varies based on his exact job. For example, working in the IT (information technology) field earns between $74,058 to $103,556, which is close to the software development project manager range of $75,494 to $103,691. A promotion to senior project manager in the IT field yields a salary range of $90,439 to $116,876. A project manager working in construction earns between $63,650 and $99,711. These figures are according to PayScale as of December 2010.
Experience
As a project manager gains experience and develops his skills, he generally sees an increase in salary. While a project manager with less than a year of experience earns an average of $51,204, one with up to four years of experience earns $66,247. With over 10 years of experience, project managers earn an average of $98,777, and passing 20 years leads to a salary average of $111,811. These figures are according to PayScale as of December 2010.
Employer Type
Different types of companies and organizations employ project managers. The highest-paying positions, according to PayScale, go to those who work for a foundation or trust, with an average salary of $102,999. The federal government pays the second-highest for project managers at $100,371, while state and local governments pay lower at $81,435. Companies and private practices pay between $95,000 and $98,000, while nonprofit organizations offer project managers an average salary of $86,254.
Location
As of December 2010, the highest-paying state in the United States for project management professionals is Washington, D.C., at $107,242. California and Virginia follow closely behind at over $103,000, followed by Illinois at $97,089 and Texas at $93,173.