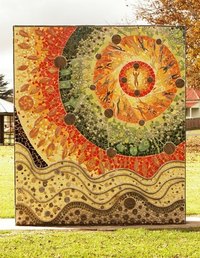 Making a living in the field of art usually doesn't pay a fortune, but it can provide tremendous satisfaction by allowing you the chance to express yourself and create things of beauty. In addition to artists, there are many other peripheral careers that are viable within the field of the visual arts.
The Portfolio
If you are planning to develop a career as a visual artist, your portfolio will be your most important tool. A portfolio as a collection of all your best work. If you work in a small medium like drawing on paper, the portfolio can present the original work. If your work is large paintings or sculpture, the portfolio will consist of high-quality photographs of your work. Only put your best work into your portfolio, and include relevant information such as size, medium, date created and current location. Many artists maintain a website that can serve as a digital portfolio.
Teaching
Making a living as a visual artist is not easy; it can take years before you reach the point where you will not need other work. Many artists bring in necessary money by teaching art as well as making it. Teaching art can be a profitable occupation, and it dovetails well with making art because it utilizes the same field of expertise. Art teachers may be employed at any level of public school, at a university, or may work as private tutors in anything from painting to pottery. Teaching can also help to develop personal and professional contacts that will be useful in developing a career as a fine artist.
Supporting Careers
Many people who are not fine artists themselves make their livings in supporting careers within the field of fine arts. Dealers buy and sell art, and may run their own galleries. Curators develop, design and mount shows at galleries and museums. Critics write opinion pieces on shows and artists and help to form public opinion regarding various art movements. Art historians write books, articles and monographs and teach in schools and universities. In addition, some industries that are outside of the art world are partially supported by it, for example manufacturers of oil paints, canvases and materials used in sculpture.
Art and Business
The ability to network, promote yourself and convince people that they want to buy your art are just as important as artistic talent when it comes to making a living as an artist. Some misguided artists believe that making it as a professional means cloistering yourself in your studio, focusing solely on your art, and waiting for an agent to discover you. In fact, successful professional artists, as opposed to artists who create art solely for pleasure, tend to be very skilled at developing interpersonal connections, getting their names into the public arena, and engaging in public relations in the same way that any other businessperson would.