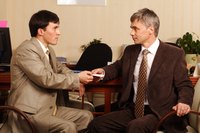 It is important to keep a board of directors energized to enhance the growth of a business or non-profit organization. One way to to that is by bringing new people onto the board. New members bring fresh ideas and different perspectives, expand a businesses' contacts and networking, and bring vitality to the organization.
Definition
While some businesses have a committee that is in charge of board recruitment, several boards of directors are self-perpetuating, meaning the board members themselves recruit new members. This manner of board recruitment is the most common way new members are brought to a board of directors in the United States. When a board position becomes vacant or will shortly come to term, current members solicit interested parties for recruitment via their business contacts. Sometimes the member who is leaving the board recruits a person to take his place.
Recruitment
A self-perpetuating board of directors should train its members to recruit thoughtfully and responsibly. Some boards hire an outside consultant to train for board recruitment. It is important for a board to have written job descriptions for board administrators and directors. This will aid the board when recruiting, allowing members to target potential directors with specific skills or contacts. It is imperative to have an initiation packet, complete with board member responsibilities, prepared when recruiting new members. Make sure all contact lists are current. This is a great tool to give to a prospective member to help her get familiar with the business and its mission.
Pros
Self perpetuation is an easy way for a board of directors to function. When a member knows he is going to leave the board, or when a term will soon be up, that member can easily recruit a person or persons from business contacts who would be appropriate to fill the vacancy. A self perpetuated board saves time because there is not a separate committee that must meet several times when recruiting new members.
Cons
A self-perpetuating board of directors can become stagnant and can become entrenched. An entrenched board is one that becomes too friendly, which can result in individual members not wanting to hurt other members' feelings. This can lead to poor business decisions. The feeling on the board may be more that of a private club than a board of directors that has the responsibility of steering the organization. This chumminess can also result in poor performance or other transgressions by board members being overlooked, giving the board a poor reputation.