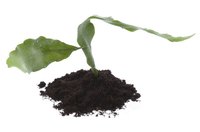 Sustainability consulting sprouted from the global call of recent years for environmental conservation and the need for ecologically sound business practices. Consultants in this field create business strategies that make organizations eco-friendly and durable in the face of future change. The field is young and dynamic. Demand for professionals versed in sustainable practices continues to grow every year.
Pay By Experience
According to estimates from PayScale.com, a junior-level sustainability consultant can expect to earn about $36,000 per year as a starting salary. That figure, PayScale indicates, will increase well above $40,000 per year within the first few years of employment. By the time she's a mid-level consultant, she can expect to earn between $47,000 and $76,000 per year. Once she becomes a senior-level sustainability consultant, PayScale figures show she can expect to earn more than $80,000 per year. She could eventually reach a six-figure salary.
Pay By Location
The top cities for sustainability consulting work are Washington, D.C.; New York; Atlanta, Georgia; and San Francisco, California. The average salary of a senior sustainability consultant can vary greatly due to company, industry, location, experience and benefits. According to SimplyHired.com, the average salary of a senior sustainability consultant in San Francisco, California, where experts in the field of sustainability are in demand, is $103,000 per year. By contrast, in New York City, the average annual salary of a consultant is $76,000 owing to a decreased demand.
Education
Sustainability consultants come from different walks of life. Many have advanced business degrees such as an MBA or a background in sustainability studies and environmental sciences. Because their professional backgrounds vary, a sustainability consultant's knowledge may be "greening" an urban community or working with a multinational corporation to reduce its carbon footprint. A sustainability consultant with an MBA and several years of professional experience can expect to earn more than a sustainability consultant whose academic and professional experience is limited to a bachelor's degree in environmental studies.
Employment
Governments, large corporations and management consultancies are the three main employers of sustainability consultants. Governments contract sustainability consultants to help develop legislation within a particular area of environmental policy. Large corporations contract management consultancies specializing in sustainability or hire their own "in-house" sustainability consultants to help devise strategies that can make them better corporate citizens. Many industries are currently facing an immediate need to "go green," particularly in the fields of engineering, energy, utilities and business management. It's in these areas where sustainability consultants typically see higher salaries than other fields such as medicine or sports.