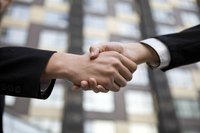 The divide between Eastern Europe and the rest of Europe and the world developed after World War II, with Eastern Europe consisting of many countries occupied by what was then called the Soviet Union. As a result, the influence of Communism was strong in the Eastern bloc and hindered international relations. That divide no longer exists, and Eastern European countries regularly conduct business and trade with the rest of the world. Understanding the region's business culture is crucial to creating rapport with potential business associates.
Workplace Atmosphere
In most Eastern European countries, there's less emphasis on small talk and pleasantries than in more socially oriented countries like the United States. In both social and business situations, people usually skip friendly exchanges and move ahead to the reason for the meeting. In fact, in many Eastern European countries such small talk is seen as a waste of time, and compliments are sometimes received with suspicion if they come from strangers. Co-workers don't chat as much with each other as they do in countries like the U.S., and even if you've made eye contact, they may not strike up a conversation. Generally, Eastern European residents stick with the social circles and small business groups they've known for extended periods of time, so they may not be as receptive to the social or dinner invitations enjoyed elsewhere. It's often best to keep work and socializing separate, unless the other person makes the offer.
Dress Code
Business attire in most Eastern European countries is subdued, with both men and women opting for conservative suits in dark or neutral colors like brown, black, gray, beige or dark blue. Eastern European residents typically frown on what they see as conspicuous or ostentatious displays of wealth, so dress should be modest and not showy or flashy. Jewelry and accessories are acceptable for women, as are scarves, but should be kept simple. The formality of dress depends partly on the size of the company.
Greetings
While differences exist among Eastern European countries, their business culture is generally more formal than in Western countries like the U.S. For example, they are less likely to address colleagues and associates by their first names unless they have met several times. In some countries, it's customary to address someone by his title and last name, even if you know him quite well and do business with him regularly. The standard way to greet someone is with a handshake and eye contact. The handshake is especially important, with everyone shaking hands before and after a meeting -- and with absolutely everyone in the room. This is the standard practice in Estonia and in many other Eastern European countries.
Meetings
While punctuality is valued in all countries, in Eastern Europe it is imperative. You are expected to arrive precisely on time for all meetings and events, and arriving late or cancelling at the last minute is generally not acceptable unless you have a very good reason. There are some exceptions, notably in Russia. The Foreign Translations website notes that it's not unusual for appointments in Russia to start late and last much longer than anticipated. However, while the host may be one or even two hours late, all guests are expected to be punctual. Appointments are typically made well in advance, often several weeks.
Gender Roles
For the most part, gender roles in Eastern Europe's business world mirror those in other developed countries, with women accounting for a large percentage of the workforce. Women increasingly hold high-ranking positions and participate in business meetings and other functions; however, they lag slightly behind men in education, salary and status. According to EveryCulture.com, in Bulgaria, for example, women often hold lower-paying jobs and account for a higher percentage of those unemployed. Differences are few but present in the interpersonal relations between men and women. In some countries it's still customary for men to stand when a woman enters a room and remain standing until she is seated. Women greet associates with a handshake just as men do, but in some cultures, men wait for the woman to offer her hand before shaking it.