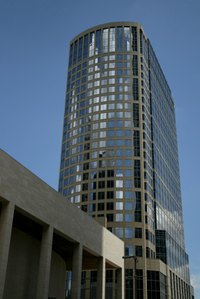 Owning commercial property generates the opportunity to deduct a number of expenses against your real estate income. In fact, just about every expense that could be considered normal and customary can be deducted. Furthermore, the ability to deduct a depreciation allowance allows you to shelter even more income.
Operating Expenses
Every operating expense of a piece of commercial property can be deducted on Schedule E of your 1040 tax return. These include utilities, routine maintenance, property taxes, insurance and even the cost of property management services. Allowed expenses also include the cost of any travel, including such things as a business-related trip to Hawaii for a property owner's conference.
Debt Expenses
One of the major allowed property expenses is the cost of any mortgage that you have on the property. Although you cannot write off the principal reduction portion of your payments, your interest is completely deductible. For most owners, the combination of operating expenses and interest means that only a very small portion of a given property's rent is subject to taxation as income.
Depreciation and Capital Expenditures
Commercial property has a tax life of 39 years. What this means is that you can take your basis in your commercial property, excluding the non-depreciable land, and divide it by 39. The result of that division is your annual depreciation deduction, and you can subtract it from your property's income. In fact, for many owners of leveraged properties, depreciation can shelter over half of their actual cash flow from income tax. You can also depreciate other capital expenditures, such as a roof or new HVAC system, over the improvement's life.
Passive Losses and Real Estate Professionals
If your real estate generates a profit, then you will have to pay taxes on the profit that is left after subtracting all of your expenses and depreciation. If your real estate generates a tax loss, however, you may be able to benefit from a provision in the tax code that allows you to use real estate losses to offset active income. If you are a real estate professional, which may include being a full-time Realtor or broker, the Internal Revenue Services treats your property income as similar to your real estate income, meaning that you can use any loss on your commercial property to reduce your other, active, real estate income.