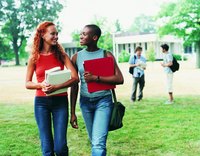 The Department of Education awards millions of student loans every year. When you get a student loan, you generally don't have to make payments while attending school. If you drop out, you have to start repaying back the loan. The Office of Federal Student Aid has a range of options to help you manage student loan repayment in a way that works for you.
Your Grace Period
Most student loans come with a six-month grace period. Unless you drop out early in an academic term and have no preexisting student loans, you are supposed to start repaying the borrowed money at the end of the grace period. You are responsible for contacting the loan servicer and arranging payments. A loan servicer is a financial institution that handles the processing and collection of student loans. Normally, student loans won't be forgiven even if you drop out of school. There are three exceptions. A student loan can be forgiven if the school closes and you can't finish your educational program, if you participate in certain teaching or public service programs or if you become permanently disabled.
Refunds and Loan Cancellation
If you drop out early in an academic term, the school may refund all or part of the fees and tuition. For example, a college might refund all charges if you withdraw during the first week, or 50 percent if you drop out before 30 days have passed. Refunds are credited against your account and reduce the amount of the student loan. You have 120 days to pay off any loan balance not refunded and return any cash disbursement you received. If you do, no fees or interest are charged and the student loan is cancelled. If you don't return all of the money, the balance becomes a regular student loan subject to the usual grace period and repayment terms.
Choosing a Repayment Plan
The standard repayment plan for a student loan is designed to pay it off in 10 years or less. Payment amounts are based on this time limit, and are at least $50 per month. The standard plan costs you the least amount of interest. One alternative is a graduated plan that starts with reduced payment amounts that increase over time. Another option is an extended payment plan that reduces payments by stretching repayment out to as much as 25 years.
Extended Deferment and Forbearance
After you drop out of school, you might not get a job that pays enough to allow you to make student loan payments. If so, you can apply for an economic hardship deferment. If the loan is subsidized, interest won't accrue. If you left school to go on active duty in the military, you also can request continued deferment. When you don't qualify for deferment, you can ask for forbearance. Forbearance keeps your loan listed as current, meaning you are not considered delinquent if you don't make payments. Under forbearance, interest accumulates and is added to what you owe even if the loan is subsidized.