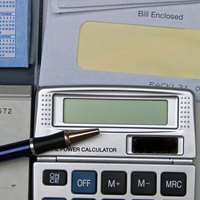 Many people dream of upgrading from a tiny apartment to a single-family home. The reasons are numerous, and may include wanting a backyard, more space and a private garage. Homeownership often comes with many additional expenses, such as large mortgage payments. Even renting a home can lead to higher monthly bills than renting an apartment. If you are considering making a move from an apartment to a house, prepare for an increase in several types of monthly bills.
Electric and Gas
Some apartment leases include the basic utilities in the monthly rental payment. If you are moving into a house, prepare to pay more for your monthly electric or gas bill than what you are currently paying, or not paying, for the same type of service in an apartment. According to the Community Housing Network, this is because many houses have more square footage than apartments and they simply cost more to heat and cool. However, you may be able to offset the price hikes by installing energy-efficient light bulbs and light-blocking mini blinds. Always ask the previous homeowner or home renter to see past electric or gas bills to get an accurate estimate of how much you'll be paying.
Water
Water often costs more in a house than an apartment, simply because you'll need to use the water more. For example, rather than washing your clothes at the on-site apartment complex or neighborhood laundromat, you will most likely have your own private washer and dryer. While this can be much more convenient, it will raise your monthly water bill. If your new home has a large yard that is perfect for your dog and weekly barbecues, remember that you'll have to pay to water it often to keep the grass green.
Insurance
Homeowner's insurance is typically much more expensive than renter's insurance. According to the website Get Rich Quickly, a homeowner in Seattle went from paying $20 a month in renter's insurance to more than $150 a month in homeowner's insurance.
Even if you are simply renting a home, your renter's insurance will most likely be more expensive. This is because with the increased square footage, you'll often have more items to insure. Also, most home rental insurance contracts include liability coverage. This means that in some states, if someone is walking on your lawn, trips and injures himself, you'll need to have insurance coverage if he sues both you and the homeowner.
Miscellaneous Bills
Other types of monthly bills that you may not be paying for in an apartment include trash service, neighborhood association dues and annual taxes. Typically, only homeowners are required to pay taxes, but house renters will often be responsible for other types of small fees that can add up over time, such as yard maintenance costs.