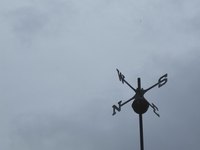 If you want to become a meteorologist, be prepared to take courses in math, science and, of course, atmospheric science and meteorology. Meteorologists are scientists and though some appear as television personalities, the vast majority spend countless hours studying satellite images and radar maps and building computer simulation models to accurately predict the weather.
Atmospheric Science / Meteorology
According to the American Meteorological Society, the most direct path to joining the field is to receive a bachelor's degree in meteorology or atmospheric science. Much of meteorology is based on atmospheric science and the study of weather forecasting. You'll need to understand how to read data from satellite and radar maps as well as how computer models and simulations can predict weather patterns. For example, at Penn State University, basic meteorology courses include weather forecasting, weather analysis and atmospheric science.
Mathematics
Mathematics is a large part of weather forecasting. Every day meteorologists predict the percentage of precipitation, the expected high temperature and even the likelihood of a cloudy day versus a sunny day based on equations. Mathematic equations also are the basis of many computer models used in weather forecasting so you'll need a solid background to perform as a meteorologist. You should have a strong understanding of mathematics and be prepared to take advanced courses, especially if you are interested in entering the research field.
Science
Meteorologists are scientists. Courses in physics, chemistry and engineering will give you the foundation to enter specialized fields or become a researcher. You also can look into courses in biology, geophysics and oceanography, especially if you want to get into emerging fields involving global change and how atmospheric conditions are affecting weather.
Careers
We've all seen the local weatherman standing in front of a large screen pointing to the next low pressure system impacting our area, but only a small percentage of meteorologists stand in front of a camera. Most careers in meteorology involve scientific work for the government or private weather agencies, such as Accuweather. Many careers in meteorological research require advanced degrees, either through master's degree programs or doctoral degrees.