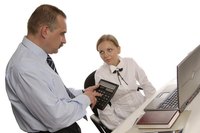 Diverse leadership allows organizations to grow and change. Many companies are placing a major emphasis on diversity and training their leadership teams regarding the value of having diversity in their organizations. As an example, the CEO of ING took a step toward organizational diversity by challenging his organization to accelerate the development of the company's female talent. The company's CEO realized that there was untapped talent within the organization and took a big step to make the company's leadership more diverse.
Organizational and Leadership Diversity
Organizational diversity aims to empower the employees of an organization. It creates effectiveness by tapping into the strengths of employees. An organization that does not value employee diversity will lose out on innovative new ideas because the employees of a company will not be given the opportunity to share their input.
Leadership diversity is much like organizational diversity, but it encompasses a company's leadership team. Leadership diversity is essential if employees' diverse ideas are to be valued. A diverse leadership team that is open to change is essential for diversity to be successful. Employees can have strong, diverse ideas, but without a leadership team that is open to diverse perspectives, the ideas will not be implemented.
Benefits of Diverse Leadership
Diverse leadership means having a leadership team with people of many different backgrounds and experiences. Leadership diversity goes beyond race. It encompasses age, culture, traditions, personality, work experience and beliefs. For example, an extrovert and an introvert are diverse because they interact with the world in different ways.
Diverse leadership allows an organization to step outside of a company's traditional operations pattern and encourages new ideas from company leaders. A company can not grow and improve without new ideas. Companies must change and be innovative in order to stay competitive in a fast-paced marketplace. For example, the advertising jingle that was popular in the 1950's would likely not be a hit today. A call center may not be effective without leadership brainstorming new ways to keep employees engaged. Without diverse leadership, new ideas would not be implemented and a company may find itself in an "if it isn't broken, don't fix it" mindset.
How Diverse Leadership Helps Companies
Diverse leadership challenges a company's current structure and aims to make it better. Unless leadership is diverse, there is little or no motivation to move beyond where the company is at the present time.
Diverse leadership also helps a company move beyond potential weaknesses. For example, if a company's leadership team is comprised of middle aged, male accountants, the team will have strong financial skills. However, the team is likely missing out on the creative and innovative side that the company needs to survive in the competitive marketplace.
A diverse leadership team understands the value of needing a diverse workforce. As such, a diverse leadership team is more likely than a non-diverse team to hire employees who will challenge the organization's current structure and make it better.
Challenges of Building a Diverse Leadership Team
Especially when moving from a non-diverse leadership structure to a diverse one, it is difficult to incorporate new, diverse people into an organization. Diverse people provide new ideas that may not correspond with the ideas of the existing leadership team. This can be a challenge for existing leadership team members who are satisfied with the current situation.
New organizational and leadership diversity can create an organizational challenge by creating an "us versus them" mentality. Current employees may feel as if new employees are trying to change their organization and new employees may feel pushback from current employees. This can be combated with diversity training and proper organizational communication.
While the transition to diversity within an organization may be difficult, it is necessary and with time an organization will be better because it has gained diverse perspectives.