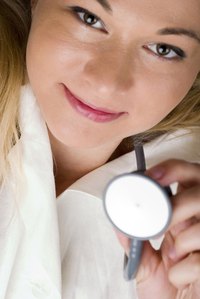 Physician's assistants (PAs) are used in a wide variety of health-care settings. PAs help relieve the physicians from the more routine tasks of patient care. PAs are seen in a wide variety of specialties but more than 50 percent are seen in primary care offices.
Physician's Assistant
A physician's assistant handles most of the same cases a physician will see but works under the supervision of the physician. Any difficult or complex cases are referred to the supervising physician. PAs are authorized to order tests, prescribe medications, triage patients and perform minor, in-office, surgical procedures. A physician's assistant should not be confused with a medical assistant. Some states do not allow a PA to work in a medical office without a physician present and available at any moment.
Previous Bachelor's Degree
A physician's assistant holds either a bachelor's degree or a master's degree. After the first two years of basic studies, the student enters the physician's assistant program and will graduate with either a bachelor's degree or a master's degree. Having a bachelor's degree in any other field will still require you to complete the PA program with the college of your choice. A PA program incorporates many science classes; therefore, a bachelor's degree in science might be beneficial but is not required to begin the PA program.
Further Education
Whether you have a previous bachelor's degree or not, you will have to complete the PA program. which requires a large portion to be completed as hands-on experience. The bachelor's degree will require slightly more than 1 1/2 years of clinical course work and completing the master's degree will require an additional year of science courses and 2 1/2 half years of clinical experience.
Beginning Salary
The beginning salary of a physician's assistant varies based on your geographical location and specialty. According to the American Academy of Physician Assistants' 2008 Census Report, the average income for a first-year physician assistant graduates was $74,470. The U.S. Bureau of Labor Statistics estimates the job growth for physician's assistants to grow at a faster-than-average rate for other careers.