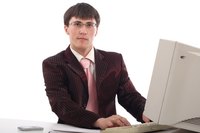 Paralegals work in a broad variety of settings, though the vast majority hold positions in private law firms, government offices and corporate legal departments. Paralegals assist lawyers by performing a slew of duties including research, document preparation, client interviews and filing of case information. Entry-level salaries vary drastically depending on a number of factors. Individuals looking to get into this field should consider these factors as they make their career decisions.
Entry-Level Salaries
The average annual salary for paralegals is approximately $48,000, according to May 2008 figures from the U.S. Bureau of Labor Statistics. Most paralegals earn somewhere in the range of $36,000 to $59,000, according to the 2010-11 Edition of the U.S. Department of Labor's Occupational Outlook Handbook. This same resource provides data which shows that the bottom 10 percent of paralegals have salaries of less than $29,000 per year. In contrast, the top 10 percent of paralegals boast salaries of over $73,000. Entry-level paralegals should generally expect to start out closer to the low-end of the salary scale.
Common Benefits Packages
Aside from a salary, paralegals typically receive an additional benefits package as part of their compensation. Arrangements vary, but most employers offer things like health insurance, dental insurance, paid sick leave, paid vacation days and a 401k savings plan. Some employers may also provide bonuses for overtime hours or business-related travel expenses as well as tuition reimbursement for continuing legal education.
Factors Determining Salary
Several factors play important roles in influencing the salaries of paralegals. These factors include education, training, experience, type of employer, size of employer and geographic location. The U.S. Department of Labor notes that entrants with college degrees and formal certifications in paralegal studies generally receive better starting salaries. Similarly, paralegals who work at prominent law firms in major metropolitan areas tend to enjoy far bigger salaries than those who work at tiny firms in small cities and towns. In addition, paralegals' earnings will vary depending on what type of law practice they work for. For example, a paralegal working in litigation or corporate law could potentially make more than a paralegal assisting a public defender attorney.
Advancement
The U.S. Department of Labor notes that employment of paralegals is expected to grow by nearly 30 percent between 2008 and 2018. Opportunities for advancement in the paralegal profession generally arise as employees gain work experience or augment their education. Entry-level job applicants with formal paralegal credentials often stand the best chance of finding work and securing better pay. The U.S. Department of Labor mentions The American Alliance of Paralegals, Inc. and The National Association of Legal Assistants as two well-known organizations that offer voluntary paralegal certification. More than 1,000 schools offer paralegal training programs in the U.S., while approximately 260 of those schools feature programs that are officially approved by the American Bar Association.