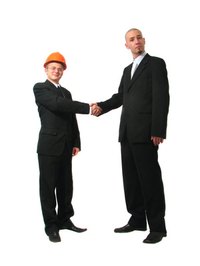 The profitability of business enterprises and the contributions businesses make to society are direct functions of the leadership that management exercises. The key functions of management and leadership are planning, directing, organizing and controlling, Within these functions are the steps that comprise the management process.
Planning
Identify the key areas where you expect results from your subordinates. Define specific, measurable objectives so that you and members of your team are clear on the end result for any assignment. Obtain agreement from those individuals who are assigned objectives that they are achievable. Be willing to commit your time and the time of your team to the efforts required to achieve your objectives. Establish the approach used to achieve objectives. Your approach outlines activities that must be performed, who will perform them and when the activities will begin and end. Define the expected deliverables for each project or program. An example of a deliverable is a completed, fully tested computer program.
Directing
Provide clear instructions to those you are managing but give them enough freedom to perform their work based on their own skills and interests. Clearly delegate responsibilities. Make yourself available to your subordinates when they need guidance. Be open to suggestions and ways to improve your department. Encourage teamwork and cooperation among those that report to you. Give people effective tools to perform their job and provide training if they do not have all the skills needed to perform effectively. Provide positive feedback for a job well done.
Organizing
Prioritize and assign work based on importance and urgency. Manage your time effectively. The SCORE website recommends that rather than prioritize the work you have on your schedule, schedule your priorities first. Periodically evaluate how effectively you use your time by logging time use. Learn to say no to interruptions and activities that do not directly contribute to your priorities. Meet with your staff once a week to discuss accomplishments for the previous week and plans for the coming week. Weekly group meetings contribute to group cohesiveness and team spirit.
Controlling
Establish and obtain approval for your department's budget. Set up follow-up dates for all assigned activities to assure assignments are completed on time and on budget. Inspect the work of your subordinates. Provide ongoing feedback to those who report to you. Review employee performance on a frequent basis and annually on a more formal basis. Identify areas for improvement, and ask those reporting to you what they can do to improve performance.