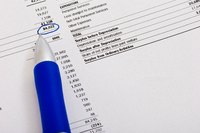 A company's financial statements include the income statement, balance sheet and cash flow statement. Investors, analysts and the media can review these statements for public companies and question management at quarterly conference calls and investor forums. The statements help in evaluating a company's financial performance relative to its peers. However, there are limitations, which can be grouped into three categories: predictability, reliability and comparability.
Predictability
Financial statements reflect the past; they do not predict the future. They do not predict changes in sales due to increased research and marketing. They do not forecast the impacts on profitability from the entry and exit of competitors. The statements also provide no direct way of assessing whether recent performance trends -- such as sales and profit growth -- will continue and for how long.
Reliability
It is often difficult to assess the reliability of financial statements. For example, the accompanying notes -- usually included at the end of the statements -- contain details that may not be readily apparent on the financial statements. This could lead to potential risks being overlooked: Enron turned into a disaster because research analysts missed the potential impact of its off-balance sheet holdings. Companies may characterize a major customer loss as a delayed order rather than a loss or cancellation in order to buy time to find a replacement customer. Companies often release unaudited statements, which are, by definition, less reliable than audited statements. However, even an audited and publicly disclosed financial statement is no guarantee of a company's health because public companies can routinely run into trouble.
Comparability
The financial statements of industry peers are usually compared to evaluate investment trade-offs. However, these comparisons may prove difficult because of differences in accounting methods, such as different fiscal year ends--a fiscal year can start on Jan. 1 or the first of some other month -- and different inventory valuation methods. There are three such methods: first-in first-out, or FIFO, where goods are sold in the order they enter inventory; last-in first-out, or LIFO, where the last item to enter inventory is sold first; and average cost, which is the total cost of the inventory items divided by the number of items. The method determines the cost of goods (an income statement item) and the inventory (a balance sheet item) amounts, making financial statement comparisons difficult when companies use different inventory valuation methods.
Other Limitations
Financial statements do not provide all the answers: For example, they cannot quantify the financial impact of senior management changes. The competitive environment is difficult to assess from financial statements: For example, there is usually no information on how many competitors were bidding on specific contracts or why a company lost some of them. There is also generally no quantifiable information on the impact of economic, political and technological changes on the business outlook.