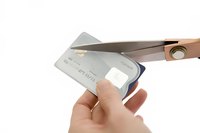 MSN Money states that the average American household has approximately $8,000 in credit card debt, and nearly 43 percent of American households spend more money than they earn every year. Debt brings with it many consequences, including interest payments and fees and, for many people, stress. There are many benefits of reducing debt, including financial flexibility, a lower debt-to-income ratio, and less stress.
Freedom to Spend
One benefit of reducing debt is having the freedom to spend money. When you don't have debt, you are free to do what you want with your money. This could mean spending money on a dream vacation, new furniture, or being able to go out to the fanciest restaurant in town. When you have little or no debt you do not have to worry about every bit of your money going toward debt and interest payments. Reducing your debt allows you spend money as you please.
Freedom to Save
Reducing debt also gives you the freedom to save money for larger purchases, such as a home or a car, or to prepare for your future. The money that you would have to pay for interest and fees can be put toward your retirement or saved for future spending. When you are able to save money for your future, the prospect of retiring becomes more accessible, and living comfortably during retirement will be easier than if you were unable to save money.
Lower Debt-To-Income Ratio
A big benefit of reducing debt is having a lower debt-to-income ratio, meaning your income is substantially more than the amount of debt you owe to others. MSNBC describes that "your debt-to-income ratio is one important tool in evaluating your financial health." If you have a high debt-to-income ratio, over 36 percent in most cases, it will be difficult for you to secure a loan when you need one because lenders see you as unable to pay them based on your current income and debt payments. By reducing debt, you can reduce your debt-to-income ratio and apply for car loans or home loans when necessary.
Less Stress
A final benefit of reducing debt is having less stress. According to the Associated Press "when people are dealing with mountains of debt, they're much more likely to report health problems" including depression, ulcers and cardiovascular issues. As such, reducing or eliminating debt can lower stress and improve your mental health. Focus on the Family describes that when you have less debt you spend less time worrying about it and therefore can focus on more important aspects of your life such as friends and family.