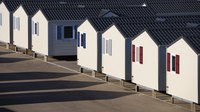 Most "mobile homes" today are not very mobile, and often look more like single-family houses than trailers. The term "manufactured home" is more commonly used to refer to this type of dwelling. However, they are typically registered as "vehicles" with the Department of Motor Vehicles. They come with a title proving ownership, just like a car, rather than a deed, like in real estate. So getting financed to buy one is a different process than buying a home.
Title Loans vs. Mortgages
Rather than getting a mortgage, mobile home buyers get a "title loan." These have higher interest rates than mortgages, require higher down payments and are usually required to be paid off within a much shorter period of time. A typical title loan is financed for 15 years (rather than the standard 30-year mortgage), and it is common to charge a 10 percent down payment (as opposed to the usual 5 percent down with a mortgage).
Land Owners vs. Land Renters
Many people buying a manufactured home are purchasing one at a mobile home park. This means they will not own the underlying land, but instead will have to lease it from the park, and the rent can be raised at any time. They are also subject to the park's regulations and fees. For this reason, people frequently abandon their title loans, which is why banks charge higher interest rates to those without their own land.
Bank Financing
The number of banks willing to make title loans to manufactured home buyers is much smaller than the number of banks that are interested in making home mortgage loans. Most banks do mortgages, but a BankRate.com survey of 20 banks showed that almost half of them were unwilling to lend to mobile home buyers who did not own their own land. Seven out of the 20 banks refused to do any title loans at all.
Retailer Financing
According to the Manufactured Housing Institute, 82.6 percent of title loans for mobile homes originate with the retailer that is selling it. Often this is also the company that manages the park. When buyers decide to move, and default on their title, the park just repossesses the home and sells it to someone else. Even if the park doesn't do the financing, they often help arrange a loan through a finance company.