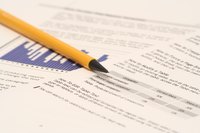 A compilation financial report is a compiled finance report that includes every financial aspect of any given business. This type of report is also known as an annual report and is written either once a year, twice a year or on a quarterly basis. It is used to present the truthful and honest standing of the company in terms of its finances.
Compiled Financial Report
A compiled financial report covers everything the business is spending and earning, whether it is on a monthly basis or long-term basis, such as fixed assets or liabilities. A compilation also means that it is very detailed, so it breaks down exactly how the money is spent in the company and how much the business owns. The detail is not only important for investors and lenders, but also for customers who are interested in the company's financial standing.
Sections
A fully compiled financial report will often have four distinct sections. The first section will discuss what assets the company has. In other words, it will show what the company owns in terms of cash, property and other valuables. The second section will show the company's liabilities, or how much the company owes others. Examples include unpaid salaries, unpaid taxes and any type of outstanding loans. The two last sections show the company's expenses and earnings, which are often broken down on a monthly basis. These sections are not approximate values, but exact values. The reader should be able to identify how much the business has spent on insurance payments in the month of March of the given year, if desired.
Features
Besides the four sections mentioned above, other features can be found in a financial report. If the financial report is rather large, it is common that it contains a table of contents and an executive summary. The summary simply highlights the major points in the report. If the report contains a lot of numbers, it is often a good idea to create graphs or charts to make it easier to read and understand the meaning behind the numbers. Graphs also allow you to compare results from other months or expenses, for example.
Purposes
Compiled financial reports are used by investors to determine how a company is spending its money and to determine whether the business is worth investing in. The reports are also used by customers to determine whether the company is spending its money wisely, which can establish a bond of credibility for some. Lastly, it is also used by the company to identify problems or issues within the budget and used as a springboard to plan for budget cuts or eliminating liability loans.