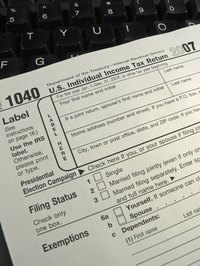 Wage earners pay a portion of their earnings to federal, state and local taxes. The actual amount paid, as a percentage of gross pay, varies according to how much you make, where you live and your particular tax situation in terms of deductions, expenses and adjustments to income. Tax rates also vary from year to year. Overall rates for federal, state and local taxes combined generally range from 25 to 30 percent of total earnings.
Tax Burden and Tax Freedom Day
The Tax Foundation, a nonprofit organization, annually reports the overall amount of income that people pay as taxes, a concept known as "tax burden." The overall tax burden for 2010 was 26.89 per cent. In other words, for every dollar you earn, on average, almost 27 cents goes to federal, state and local taxes.
The Tax Foundation also reports the date of "Tax Freedom Day," the calendar date until which the average person has to work in order to earn enough to pay their annual taxes.
For example, Tax Freedom Day for 2010 was April 9, indicating that a worker's average earnings from January 1 through April 8 were needed to pay his annual tax burden.
Tax Burden by State
Average tax burdens vary by state. Connecticut has the largest overall tax burden in 2010, with a Tax Freedom Day of April 27, while Alaska's Tax Freedom Day of March 26 represented the smallest overall tax burden.
Tax Burden Over Time
The average tax burden has been above 25 per cent since 1960, peaking in 2000 with an overall tax burden of 32.98 percent. In contrast, the tax burden in 1910 was at an all-time low for the 20th and early 21st centuries, at only 5 percent.
Tax Burden by Type of Tax
Income taxes and social security taxes are the largest components of the overall tax burden, followed by sales taxes and property taxes.