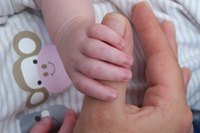 Nannies provide childcare services in the home for families requiring such assistance. Nannies may help kids get dressed in the morning, transport them to school and extracurricular activities, assist with preparing meals or oversee homework completion. It is difficult to determine average income because salaries vary widely depending on a number of factors, including age, experience and live-in status. Perks like health benefits or vacation pay can vary widely, too.
Ranges
Since salaries for nannies are determined by individual families in most cases, it's difficult to pinpoint an average wage. The 2010 International Nanny Association Salary Benefits Survey states that 10.77 percent of the 585 nannies surveyed report earning $600 per week, while roughly 16 percent report earning less than $300 to $500 per week. About five percent of nannies surveyed report that they earned between $900 and $950 per week.
Experience Level
New nannies may be high-school graduates with little or no experience working with children; these employees may earn $400 a week in 2010 for basic nanny services–minimum wage requirements do apply here. College graduates or professional, experienced nannies may earn hundreds more each week, according to International Nanny Association surveys. CPR Training, First Aid certification and other skills may be rewarded with higher salaries.
Living Situation
Nanny salaries may vary depending on the living situation arranged with employer families. In general, live-in nannies earn more than those who live in their own residences. However, some families may consider room-and-board to be a job perk and thus offer lower pay. The 2010 International Nanny Association Salary Benefits Survey found that 87.5 percent of nannies live in their own homes.
Geographic Region
Nannies working in geographic areas with lower costs of living may earn $9 to $12 per hour, while employees working in more expensive areas can earn $18 to $20 per hour. The 2010 International Nanny Association Salary Benefits Survey found that nannies in San Francisco, California earned $20.56 per hour, compared with $11 per hour for those in Louisville, Kentucky.
Special Situations
Employer families with multiple children, newborn babies or children with special needs may pay nannies more to compensate for additional care requirements. Nannies must be reimbursed for gas, meals, or school-activity fees for which she fronts payment during her workday.
Benefits
According to federal wage-and-hour laws, nannies working over 40 hours per week should earn overtime pay for each additional hour worked, although live-in nannies may not receive overtime pay according to contracts with the family. Families generally pay nannies for 52 work weeks in the year, regardless of whether they take a week-long vacation or whether the nanny is expected to work holidays. Paid sick days, paid personal days, and paid professional-development days are examples of other benefits nannies receive. They may also receive perks such as cellphones and gym memberships at the option on the families they work for.
Taxes
The Fair Labor Standards Act requires nannies to be paid on an hourly basis, according to Nanny Network.com. Employer families should deduct social security and Medicare taxes from a nanny's gross salary.