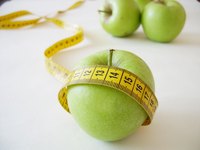 Certified clinical nutritionists plan food and nutritional programs in hospitals, nursing facilities, schools and other institutions. They often work directly with individuals to assess their dietary needs, develop a nutritional plan of action and monitor progress. They also work in conjunction with doctors and other health-care professionals to coordinate medical care. Certified clinical nutritionists earn wages that vary depending on geographic location, years of experience and employer type. Average wages in the U.S. are about $50,000 per year, according to a 2009 survey by the federal Bureau of Labor Statistics (BLS).
Earnings
Certified clinical nutritionist salaries vary by occupation. According to a survey by the Bureau of Labor Statistics (BLS), nutritionists who worked in clinical nutrition and ambulatory care earned average salaries of $53,997 as of May 2008. Those who worked in clinical nutrition and long-term care made $48,006. Nutritionists in clinical nutrition and acute care earned average median salaries of $48,984.
Experience
Clinical nutritionists typically hold a bachelor's degree as well as a state-required license and/or certification. While in school, nutritionists study dietetics, food and nutrition, and food services management. They also have a strong science background including biology, chemistry and physiology. Experienced nutritionists qualify for certification and advancement as well as earn higher salaries. According to Payscale.com, certified clinical nutritionists with between one to four years' experience earn at least $30,000 annually. Those with between five and nine years' experience earn $75,000 annually.
Geographic Location
Geographic location plays a key role in the earnings of certified clinical nutritionists. According to the BLS, states that employ the highest number of nutritionists per 1,000 workers include the District of Columbia, Delaware, North Dakota, Pennsylvania and New York. However, salaries in these states vary considerably. For instance, nutritionists in New York earn annual mean wages of $55,520 while North Dakota nutritionists make less than $48,000 per year. The highest-paid nutritionists are in Maryland, Nevada and California. They earned annual mean salaries ranging from $63,610 to $64,600 as of May 2009, according to the BLS.
Industry
Nutritionists are generally employed in medical and surgical hospitals, nursing-care facilities and in local governments. Nutritionists within these industries earned salaries ranging from $49,150 to $53,560 as of May 2009, according to the BLS. The highest-paid nutritionists work for scientific and technical consulting firms, earning salaries well above average at $75,100. Other high-paying industries for certified clinical nutritionists are federal government agencies, home health-care services and health and personal-care stores. Nutritionists in these industries earned mean annual wages ranging from $60,890 to $68,390 as of May 2009.