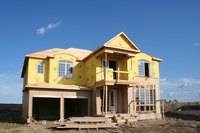 A home is the single largest purchase most consumers make. Most people take out a home loan, or mortgage, to purchase their home. Most lenders require the homeowner to carry an insurance policy that will protect the investment in the event of damage to the property from fire, wind and other natural causes. Some homeowners purchase mortgage protection insurance to pay off their mortgage in the event of their death.
Mortgage Protection Insurance
Homeowners insurance only provides coverage against loss associated with the property and does not provide any protection toward the mortgage in the event the borrower dies or becomes unemployed or disabled. Neither homeowners insurance or private mortgage insurance should be confused with mortgage protection insurance. Mortgage protection insurance is a separate policy that pays off the mortgage in the event of the borrower's death. This type of policy may also make the borrower's mortgage payments in the event he becomes disabled and cannot work. Mortgage protection insurance is not a part of a homeowners insurance policy.
Homeowners Insurance
Homeowners insurance typically combines a variety of different coverages in one policy. Two primary components of homeowners insurance are property damage and liability. The property damage component covers the homeowner against financial loss that results from damage from such occurrences as a hailstorm or tornado. The liability component covers against financial loss from personal injuries that may occur on the property, such as a trip and fall or a dog bite.
Limitations
Homeowners insurance usually does not cover certain natural or man-made disasters including flood, earthquake or war-related damage. Additional insurance policies may cover these situations. Most homeowners insurance policies involve a deductible. This is the amount the homeowner agrees to be responsible for before the insurance company is obligated to pay. Higher deductible policies reduce the cost of homeowners insurance, but the homeowner's out of pocket expenses are higher in the event of a claim. Homeowners insurance may be purchased for a specific amount, or the property may be covered at the replacement cost. Replacement cost insurance is more expensive but protects against rising costs of building materials.
Private Mortgage Insurance
Homeowners insurance should not be confused with private mortgage insurance, sometimes referred to as PMI. PMI is an insurance policy that protects the mortgage company in the event the borrower defaults on the loan. PMI is frequently required by mortgage lenders for loans that involve less than a 20 percent down payment. This type of insurance provides an opportunity for home ownership by individuals who may not otherwise be able to come up with the required down payment. PMI can usually be canceled once the equity in the property reaches a specified percentage of the loan.