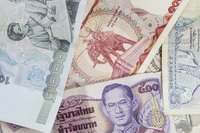 Devaluation and depreciation are both terms in economics meaning a decline in the value of a nation's currency relative to other currencies. However, the terms refer to different mechanisms that cause declines. Foreign currency exchange rates may sound like an economist's abstraction, but they directly affect how much you pay for food, clothing and many other things you buy every day.
Why Currency Exchange Rates Change
Suppose the value of the Chinese yuan declines relative to the U.S. dollar. This makes Chinese goods cheaper for Americans to buy and conversely makes American goods more expensive for Chinese consumers to purchase. Governments can set a fixed exchange rate for their currencies. Suppose a government decides it wants to stimulate exports by making its country's goods cheaper. This can be accomplished by devaluing its currency. Other currencies will buy more of its currency and thus more of its goods. Today, currencies typically do not have fixed values. Instead, currencies "float" and market forces determine relative exchange rates. When a floating currency falls in value, it is called depreciation. For example, China stopped fixing the yuan rate in 2005. The U.S. dollar began to depreciate relative to the yuan. By 2014, one dollar bought around 6 yuan compared with the old fixed rate of approximately 8 yuan. U.S. exports to China became cheaper in China, but Chinese goods became more expensive in America.