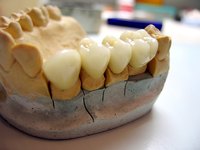 Human teeth are the most durable bones in the body and can survive most physical trauma. This makes forensic orthodontists and odontology important aspects in the identification of human remains. An orthodontist is a dental professional who specializes in treating irregularities of the jaw and teeth. In the forensics world, this applies to identifying unique traits of both deceased individuals and criminal suspects where toothmarks are evident.
Crime Investigation
According to the Merriam-Webster dictionary, forensics is a discipline that relates to or deals with the application of scientific knowledge to legal problems. A forensic orthodontist typically examines physical evidence of a crime by analyzing teeth marks and/or jaw and tooth remains. Dental work, irregularities and unique features in teeth also interest the forensic orthodontist in helping law enforcement solve crimes. When remains of a deceased person are discovered, standard procedure dictates that forensic dental experts are among the first to inspect tooth and jaw evidence. Forensic orthodontists also examine live victims of crimes if they exhibit bite marks or round bruises.
Dental Identification
When forensic specialists examine human remains, they send the teeth and jaw to forensic dental experts for analysis. If the teeth have unusual traits, the orthodontist examines them. From their inspection, they can glean information as to age, race, smoking habits, oral hygiene, and whether or not the deceased had fillings or other dental work. All of this can help identify an individual, especially if dental records exist. If dental records are difficult to find or nonexistent, an identification is still possible, although more difficult.
Bite Marks
According to Forensic Dentistry Online, bite marks are not always unique. However, tooth wear from chewing, grinding and dental work can create distinctive bite marks. A forensic orthodontist will examine round bruises or marks on the victim to determine if they are bite marks. Clarity of bite marks depends on the elasticity of skin, depth of the bite, and scarring. The Australian website, the New South Wales Police, asserts most bite marks occur on child abuse and sexual assault victims. The orthodonist might take DNA swabs, for example, if the bite is recent, photograph the mark, and take impressions of the marks with flexible dental material, such as vinyl polysiloxane or polyether (if the mark is deep enough). If a suspect is in custody, the forensic dentistry team will take impressions of his teeth, photograph the jaw/teeth and take a bite sample for further review. These will help the orthodontist in determining whether the victim's bite mark matches the suspect's teeth.
Dental Profiling
Teeth cannot determine the gender of a deceased victim whose remains are reduced to bone. The skull, if sufficiently intact, can provide forensic examiners gender and race due to sexual dimorphism and racial differences in skull structures. After the skull is determined to be male or female, the teeth can help further determine the profile of an individual. Certain dental features, however, are prevalent in ethnic groups. The cusp of Carabelli, for example, is unique to 75 percent to 85 percent of Caucasian Europeans while shovel-shaped incisors are indicative of East Asian and Native American heritage.