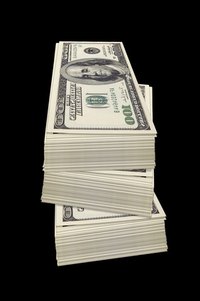 Tax refunds are deposited in your bank account or mailed to your home within six weeks of the date the Internal Revenue Service (IRS) receives your accepted return. People filing returns electronically may see their check within three weeks. For those who file amended returns, refunds may take as long as eight to 12 weeks.
Calling the IRS
You can call the IRS to check on the status of your refund at 800-829-1954. The IRS also has a "Where's My Refund" internet application. To get information you will need your Social Security Number or Individual Taxpayer Identification Number, your filing status and the whole dollar amount of your refund. You cannot use either service if you filed within the last 72 hours electronically and the last three weeks using the mail.
Common Errors
There are plenty of common errors that causes a delay in the IRS accepting your tax return. If you claim dependents, the name and Social Security number should match their Social Security card. Otherwise, the IRS will reject the return. Taxpayers should also remember to place brackets around negative numbers. If you want refunds direct deposited to your bank account, remember to double check the routing and checking account numbers to ensure your receive your refund.
Refund Anticipation Loans
For many working families, the tax refund is the largest lump sum check they receive all year and there are some who cannot wait to get it. Some tax preparers market refund anticipation loans, which are short term loans for a portion of a tax refund. According to the Government Accountability Office, refund anticipation loans feature annual interest rates of 500 percent, which is about 20 times higher than rates charged for the most expensive credit cards.
Diversion
Taxpayers who owe money for child support or student loan debt may see their tax return diverted to pay those debts. The IRS used to warn providers of refund anticipation loans that tax filers faced such action, but announced that it would cease to do so in January 2011. Some tax preparers saw this as a shot at refund anticipation lenders. Borrowers who saw their refund diverted likely would not be able to repay the refund anticipation lender. This would increase the risk for that segment of the industry. The IRS announced that nearly 70 percent of American tax returns were filed electronically in 2010. Because electronic filers get their refunds faster, the IRS believes that warnings over tax filer debt are no longer needed.