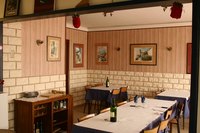 Restaurant businesses generate a lot of paperwork, including customer receipts, credit card slips and supply purchase receipts. To pay your taxes and stay out of trouble, keep these records and file them in an organized fashion so you can refer to them as needed.
Purchase Receipts
Purchase receipts are the little slips of paper you get when you buy something in a store. Suppliers who deliver goods to your restaurant provide purchase receipts in the form of delivery invoices. Some sales venues -- such as farmers' markets -- tend not to provide purchase receipts, but record of these transactions in the form of a log. Utility bills provide you with purchase receipts of sorts, in the form of payment stubs. Purchase receipts provide verification for the items that you claim as business expenses on your tax forms.
Sales Receipts
Sales receipts provide documentation of your restaurant income. Your restaurant should keep a copy of the sales receipts that you provide to each table when they have finished dining. Group these by day or by week, and file them chronologically. Also keep copies of cash register totals that you generate at the end of each shift and each day. These provide additional corroboration of your sales totals when you declare your gross income on your tax forms.
Payroll Records
Keep copies of all of the records related to your restaurant payroll for tax purposes. This includes punch cards or written logs of employee hours, as well as as computer files calculating weekly wages and payroll tax deductions. Keep documentation regarding the tips that your employees declare as part of their income. These records are necessary when you file your business payroll and income taxes, and you may also need them to verify your employees' income in case the IRS has concerns about their personal tax forms.
Bank Statements
Keep all of the bank statements that your restaurant receives. These provide a paper trail of the income you declare, which should match the amount that you deposit in the bank minus any documented cash debits, such as personal draws or cash purchases. If you base your business sales figures on your cash register receipts, you may not need these records in order to initially file your taxes. But if you are audited, you will need them to back up the information that you have declared.