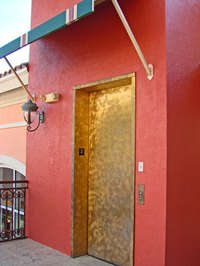 Elevators save you a lot of effort going up and down stairs if you work in a tall building. Elevators are easy and safe to use, as long as you keep a few simple safety rules in mind. Common sense keeps most people from being injured in elevators, but exceptions exist to every rule.
Closing Doors
When the elevator reaches a floor, the elevator doors open, remain open for a set amount of time to allow people to exit and enter the elevator, then close. Elevator doors have a pressure-sensitive gasket on their leading edge so that they open again if they sense an obstruction such as an arm or a head. Rushed commuters often take advantage of this feature by sticking their arm in to make the door open again so they can board the elevator at the last second. As long as the mechanism is functioning properly, this isn't particularly dangerous. However, if something goes wrong, you could end up with a crushed arm, so this practice is not recommended.
Fire
An elevator is not a safe place to be in the event of a fire. If you are on an upper floor of a building that is on fire, don't use the elevator to get out, no matter how tempting that might be. Use the stairs. If the fire affects the electrical system of the building while you are in the elevator, it could come to a stop between floors and you would not be able to get out.
Crowds
Elevators are rated for certain loads depending on their size and the strength of their cables. It is unlikely that enough people could fit into an elevator to exceed its recommended weight safety limitations. However, if you want to be on the safe side, don't squeeze yourself into an already crowded elevator. Even if you don't plunge to your death as the result of a broken cable, you will be crushed up against strangers for the duration of the ride, and that's never nice.
Trapped!
In the unlikely event that you should become trapped in an elevator, it is imperative that you don't panic. Particularly if you are in the overcrowded elevator mentioned in Section 3, the situation could become unbearably tense very quickly. Most elevators are equipped with an emergency telephone. Use it to notify someone that your elevator has stopped moving, and to find out what's wrong with it. In a worst case scenario, you can get onto the roof of the elevator and possibly escape via the escape hatch in the ceiling of most elevators.