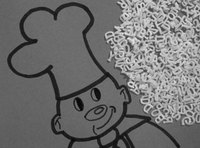 If you're passionate about food and feel you have a future as a chef, enrolling in culinary school might be the start of your career. Like any higher education institution, culinary school can be expensive. Before you apply for a culinary scholarship, consider the writing tools you'll need in order to write the most powerful essay possible.
Niche
Many culinary scholarships are awarded for subsubjects, or subcategories within the general category of "culinary arts." Before applying for a culinary scholarship, consider whether you have a "niche," meaning a talent or strong interest in one of those subsubjects. If you have expertise in pastries, wine or a specific type of regional cuisine, focus your essay on your passion for that area.
Brainstorm
Even if you think you know what to write about in your culinary scholarship essay, take the time to brainstorm before writing the first draft. This could be as simple as allowing yourself to freely write down various ideas of what you might say to creating a mind-map tracking your history and thoughts on food. A culinary scholarship essay must go above and beyond stating your love for cooking, and a brainstorm can help you find that special "something" that will make your essay stand out.
Hook
Find a hook to start your introduction. This can be any fact, situation or anecdote related to you as a potential chef that will grab the committee's attention right from the start. According to Guide to Culinary Schools, the best way to create a hook is to "tell a unique story about an event, person or experience."
Thesaurus
Keeping a thesaurus on hand as you brainstorm, outline and create a first draft can be a highly useful tool in helping you come up with the perfect descriptive word, thereby making your essay more vivid as you describe your passion for cooking. However, do not use any word in the thesaurus if you have never actually used the word yourself. For example, if you would not use the "piquant" when describing a dish verbally, do not write it either. Your essay should reflect your voice, and the thesaurus is simply there to help you find words when you are stuck.
Editors
Before finishing your culinary scholarship essay, recruit two or three trusted teachers or individuals to proofread your essay. If possible, try to find at least one with culinary experience who can give you relevant feedback on the overall impact of your essay, as well as one who will point out basic grammatical errors and typos.