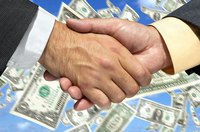 Corporate sales teams deal with all levels of clientele. A few companies, such as IBM and GE, are so large that they work with governments and other corporate giants. These companies need sales team leaders that can be effective at the highest levels of business-to-business sales. These sales team leaders are part of solution sales, and one of the titles given to them is client solution executive.
Function
Solution sales is a different sales philosophy from those used in the past. This method of sales revolves around the idea of a sales team that provides solutions for a client using the products of the sales team's company. This sales method is prominent among technology-based companies. The sales team leader is as much of an advisor as he is a sales person and is a trusted person in the eyes of his client. This sales team typically deals primarily with prime decision makers, even up to the boardroom level. Companies such as IBM call their solution sales team leaders client solution executives, while GE Healthcare calls them client solutions manager.
Compensation
According to Simply Hired, an online jobs database, client solution managers in the United States received an average annual salary of $85,000, as of December 2010. This amount can vary according to location, since the average annual salary of a client solution executive in Washington, D.C. was $114,000 for the same time frame. Sales positions are rarely salary only; most involve some form of sales incentive, such as commission, bonuses or profit sharing. The incentives package varies from company to company. Companies of the size that require clients solutions sales staff typically offer a comprehensive benefits package that includes health insurance, paid vacation and sick days, and employer-matched retirement accounts.
Responsibilities
While the salary for a client solution executive is high, it reflects the amount of product knowledge and team leadership skills the position requires. Client solution executives are in charge of putting together sales presentations and packages, so they must direct and interface with other company employees to provide the customized solution the client needs. To be an advisor to the client, the client solution executive must understand the technical needs of the client, and how precisely how the proposed product or products will meet those needs. Client solutions salespeople travel extensively, up to as much as 80 percent of their workweek.
Qualifications
Employers such as IBM and GE Healthcare require their client solutions sales staff to have a college degree along with several years of sales and negotiating experience. These staff members must also have several years' worth of product knowledge experience. Candidates must have the presence and demeanor that will allow them to interact comfortably with business leaders at the highest echelon. Client solution salespeople must have a demonstrated ability to land and retain high-level clients.