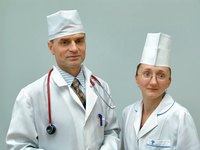 Nurse recruiters are responsible for recruiting and assigning licensed nurses and registered nurses to organizations and hospitals that are best suited to them. The average salary of this rewarding career varies based on the recruiter's level of experience, the type of company he works for and the location in which he works.
Average Salary
According to MySalary, the median expected salary for a nurse recruiter in the United States is $66,766 annually. The bottom 10 percent of those in this career earn as low as $50,620, while those in the top10 percent may earn up to $84,900. A bachelor's degree is the minimum education requirement for those wishing to work as a nurse recruiter.
Industry
Nurse recruiters may be employed by hospitals and schools, as both types of employers are constantly hiring nurses. According to PayScale, a recruiter in the health care industry earns a salary range of $39,772 to $56,734 per year, while those in the field of education, including recruiters employed by colleges and universities, earn a range of $32,731 to $45,903.
Experience
As with any job involving recruitment, nurse recruiters develop skills and valuable connections as they progress in their career, resulting in an increase in salary as well. PayScale reports that a recruiter with less than a year of experience earns between $29,998 to $37,766 per year, while one with five to nine years of experience earns between $39,845 and $58,605. A recruiter with over 20 years of experience may earn anywhere from $41,856 to $75,469.
Location
Because the cost of living, as well as demand, varies from state to state, so do the average salaries of nurse recruiters. PayScale lists California as the highest paying state for recruiters as of December 2010 with a range of $39,781 to $65,597 annually, while Virginia follows at $38,790 to $58,597. New York ranks in third with a recruiter average salary of $38,928 to $57,100.