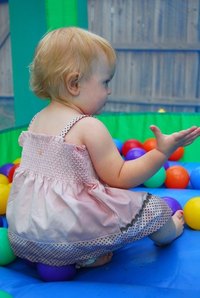 The rise in families that require two incomes to support the household has resulted in a high demand for quality daycare services. Daycare providers are responsible for nurturing, teaching and caring for infants, toddlers and school-aged children. Childcare is offered in a center-based or family-based environment, which affects the type of licensing required. The Division of Child Care -- organized within the Colorado Department of Human Services -- is responsible for the licensing and monitoring of childcare facilities.
Order the Appropriate Forms
Colorado requires that you order documentation to apply for daycare licensing. The appropriate package associated with the desired facility type can be ordered using Colorado's State Forms Order Form. For example, if you are opening a family daycare center, you should select "Application Packet for Family Care Homes" on the order form, which costs $9 as of 2010. The packet comes with the "Rules Regulating Family Child Care Homes" and "General Rules for Child Care Facilities" publications. Once the form is complete, you must submit the information with a check or money order that includes the cost of the package and the shipping and handling fee.
Complete and Submit the Application
The original application for licensing must be completed at least 60 days prior to the proposed opening date. As a result, review of the materials provided by the state is essential. Several requirements, such as training and continuing education, are required and depend on the applicants facility type and position. For example, the director of a childcare facility is required to have post-secondary education.
The application requests information about the person running the facility, a co-applicant or spouse and all other members of the household. Prior to completing the application the applicant should collect medical records and social security numbers for each member of the household.
Criminal Background Check
Colorado requires the completion of a criminal background check to secure a daycare license. The Colorado Bureau of Investigation collects fingerprints of the employees, residents and owner of a childcare or family care facility.
Applicants can download the order form to request a fingerprint card. The card must be submitted, along with the application package, to the Division of Child Care. When new employees are hired, they must submit the card to the Colorado State Forms and Publications Center at least five days before the start date.
Training & Education
Colorado requires the completion of several initial training and continuing education courses. The 15-hour preliminary courses prepare an individual in the areas of child growth and development; health, nutrition and safety; family and community relationships and several other important areas.
Candidates must also complete three hours of first-aid, three hours of CPR and four hours of medication administration training. Furthermore, licensed providers must complete refresher courses annually and every two and three years.