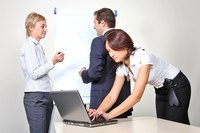 Employee benefits are those services such as health care and retirement funding that companies offer to their employees in addition to the salary that they receive. Employee benefits became a more common phenomenon for workers as the twentieth century went on and unions began to demand them in addition to higher salaries. As the economy shifted into a service oriented one, and the work force became more "white collar," these benefits became expected.
Employee Retention
A major goal of most companies as regards their employees is to improve retention. In order to keep a skilled and knowledgeable workforce, it is necessary that companies have a large set of employees who are loyal and well practiced in working for the company. Employee retention has only become more difficult, as most individuals now expect to work for many different companies during the course of a normal career.
Employee Recruitment
Along with retention there is the perennial problem in all industries of employee recruitment. Getting the best and brightest to want to come and work for you is a constant challenge. The competition sometimes becomes very fierce, especially in good economic climates. Employee benefits have an important purpose as it is not enough to merely offer employees higher salaries anymore. Employees also want a sense of security and a feeling that they will be looked after by their employer.
Tax Law
Due to peculiarities of the United States federal tax law, it has become customary and advantageous for companies to offer health benefits to employees. There is an exemption in the tax law for health care that is purchased by companies for their employees that is not offered for individually purchased health plans. The majority of health care plans in the United States come in the form of benefits provided for employees by employers.
Investment
In what is becoming more and more common, many employers offer their employees stock in the company that they work for. This is intended to increase retention and improve the morale of employees but also to give them a stake in the success of the company. By doing their job more effectively, employees who receive stock benefits will be doing more to increase the value of their stock. This improves a company's competitive culture.