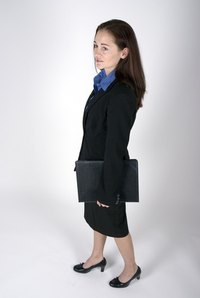 Substitute teacher aides often fill in when the appointed teacher aide is absent. Becoming a substitute teacher aide has valuable implications. A substitute teacher aide understands the classroom and instructional dynamics of the classroom. Serving as a substitute teacher aide allows the aide to gain valuable teaching experience and provides opportunities for evaluation. Substitute teacher aides need to develop and express skills related to instructional duties and to classroom management.
Job Description
When a school district or a private school posts a substitute teacher aide opening, the hiring body refers to the general criteria for skills necessary for the job. A substitute teacher aide needs to be able to step in for the regular teacher aide when called, sometimes at the last minute. Schools may make a general statement that a substitute teacher aide must be able to attend to the health and learning of the children whom she teaches in the appointed aide's absence, according to the Hamilton Fulton Montgomery BOCES job description for the position. Substitute teacher aides must pass criminal background checks and abide by all federal, state, local and school policies.
Record Keeping and Organizational Skills
Since teacher aides must be able to maintain class-related records and to evaluate student work, substitute aides must offer the same job skills. Substitute teacher aides will take attendance and record all homework, in-class assignments and exam grades. Aides collect homework, monitor tests and record all related data, including but not limited to grades, learning and behavioral issues, and take actions necessary to hold students accountable in those areas. Organizational skills likely include proficiency with spreadsheet software. Substitute teacher aides prepare all instructional materials, such as handouts, and keep learning tools including bulletin boards up-to-date, according to the teacher's instructions.

Instructional Skills
Substitute teacher aides participate in the overall learning environment by assisting the teacher as requested. A substitute teacher aide will, for example, set up displays and work areas. She must be able to operate overhead projectors and be able to present PowerPoint demonstrations. The substituting aide will instruct students individually or in groups at the teacher's discretion. Substitute aides must know classroom and school guidelines for hygiene, personal functions and dress code. Teaching skills include, but are not limited to, critical thinking, creativity and resourcefulness. Substitute teacher aides bring the knowledge of learning methodologies and the ability to implement learning methods in a classroom environment. Teacher aides exhibit resourcefulness and resilience, advises K12JobSpot.com, substitute teacher aide job posting. Job skills include the ability to assess student progress with homework, quizzes, tests and through classroom discussion.

Classroom Management Skills
Classroom management requires organizational and communication skills. A substitute aide knows how much time to schedule for each activity and knows how to keep students moving from one task to another. A substitute teacher aide possesses the ability to communicate with students on individual and collective levels, according to K12JobSpot.com. The aide must monitor student interactions and general behavior. A substitute teacher aide provides assistance to students with physical and learning challenges. Aides must also maintain orderly movement when children attend events and locations outside the classroom.