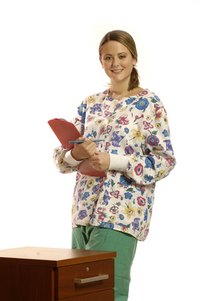 A mammographer is a radiologic technician or technologist who specializes in screening breast tissue. Ionizing radiation is used to produce images of the breast in order to detect abnormalities and conditions for treatment. A mammographer's annual income may be increased by annual bonuses, according to PayScale, an online job compensation database.
Hourly and Annual Salary Averages
As of 2010, mammographers' hourly wages range from $22 to $29 an hour, according to PayScale. These numbers work out to an annual income average of between $45,000 and $59,000. Annual incomes reflect the possible additions of yearly bonuses, which can be as much as $1,000, and overtime pay rates of $35 to $46 an hour for each hour worked over 40 in a week.
Pay Based on Experience and Tenure
As of 2010, during the first nine years of a mammographer's career, she can expect to earn between $20 and $27 an hour, according to PayScale. Those earnings climb to as much as $30 an hour after she's spent 10 years in her career field and can rise to as much as $32 an hour after 20 years of experience.
Education and Training
Most radiologic technicians and technologists have an associate degree in radiology, though some hold bachelor's degrees and still others have completed a two-year certification course, according to the U.S. Bureau of Labor Statistics. Licensing requirements differ by state. Mammographers can become certified voluntarily, something many employers see as a symbol of a dedication to high standards.
Job Outlook
Jobs for all radiologic technicians and technologists, including mammographers, are expected to be on the rise through 2018, predicts the U.S. Bureau of Labor Statistics. Jobs will grow in physicians' offices and imaging offices as well as in hospitals. The importance of early detection of many types of conditions and diseases will support the need for trained mammographers, according to the BLS.