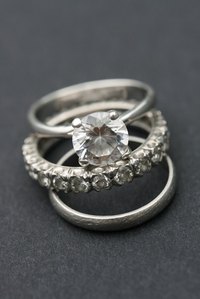 Beginning in the 1990s, a series of domestic partnership laws and acts emerged as a way to provide unmarried couples some of the rights and benefits given to married couples. Domestic partnerships are one type of civil arrangement that confers marriage-like rights. Other types of arrangements include civil unions, common law marriage or partnership, or extending marriage to same-sex couples. Domestic partnerships generally refer to same-sex couples, prevented by law from getting married. They also include older couples who wish to avoid legal complications, although an increasing number of young, heterosexual couples want domestic partnerships as well. The exact terms, rights and logistics change from place to place.
Definitions and Logistics
Definitions change between legislative acts, but in the U.S., most resemble California's definition. According to Article 297 of the California Family Code, domestic partners are "two adults who have chosen to share one another's lives in an intimate and committed relationship of mutual caring." Some jurisdictions specify age and gender requirements in their definitions. To become domestic partners, nearly every act requires a couple to go to the same authority that issues marriage licenses and sign a "Declaration of Domestic Partnership."
Comprehensive State Acts
Due to the 1996 Defense of Marriage Act (DOMA) the federal government cannot recognize any arrangement as akin to marriage, which DOMA defined as a union between one man and one woman. States, however, are free to pass domestic partnership acts granting any number of rights within their jurisdictions. California, Oregon, New Jersey, Nevada and Washington, as of 2010, had domestic partner acts in place that extend to registered domestic partners all of the state rights available to married couples. Rights include next of kin status, inheritance rights, joint insurance policies, joint state taxes, child custody and hundreds of other rights and responsibilities.
Limited State Acts
A number of more conservative states (Colorado, Maryland, Wisconsin, Maine and Hawaii) have domestic partner acts that extend only the most basic rights of marriage to domestic partners. Generally, these acts extend rights related to health, death, and occasionally to finances. They include hospital visitation rights, occasionally next of kin rights, inheritance rights and the right to make funeral decisions.
International Domestic Partnership Acts
An increasing number of countries have enacted sweeping domestic partner acts or civil unions, legalized same-sex marriage or strengthened common law marriages. The conditions and exact stipulations vary widely, but in general, such acts are fashioned after a country's marriage laws. Countries recognizing domestic partnerships include Andorra, Austria, Colombia, Czech Republic, Denmark, Ecuador, Finland, France, Germany, Greenland, Hungary, Ireland, Luxembourg, New Zealand, Slovenia, Switzerland, United Kingdom and Uruguay.