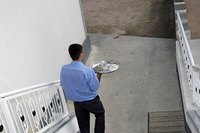 Not only is it legal to tax workers' tips, but the IRS requires you to withhold tax on tip income just as you would for salaries or wages. Develop a system that enables your employees to report all of their tip income to you regularly, and add these amounts to their paychecks when you calculate payroll tax withholding.
Types of Taxable Tips
Your employees can earn several types of taxable income from tips. These include direct tips payments such as cash left on a table after a meal. In addition, many restaurants create joint tip arrangements such as having waiters pay bartenders and bus boys a percentage of their tips. Customers can also tip by adding gratuities to their credit card receipts. The IRS treats all of these forms of tips as taxable income.
Tracking Tips
Because employees earn tips over the course of the day and week, it is important to develop a system for keeping track of worker tips over time. Create a spreadsheet and ask your workers to fill it out daily, and then require them to submit it to you weekly when you calculate your payroll and payroll tax withholdings. Provide fields for them to track different types of tip income, such as cash and credit card payments. Also provide spaces for them to list percentages of tips that they distributed to other workers, as well as the names of the workers who received this additional income.
Depositing Income Taxes on Tips
Include the taxes that you withhold from worker tips along with your regular income tax deposits. Make these deposits according to the schedule that the IRS provides for you based on your payroll volume during the previous year, or your estimated payroll volume when you set up your employment tax account. Make your income tax payments for tips and regular payroll through the IRS electronic funds deposit system or through your bank's federal payroll tax link.
Reporting Income Tax on Tips
Report income tax on tips on the designated boxes on your income tax reporting forms. The federal payroll tax form includes fields to report taxable tips and calculate taxes due on tips separately from taxes due on paycheck totals. When you fill out your W-2 forms at the end of each year, list taxable tips separately from taxable paycheck income in the dedicated fields provided for this purpose.