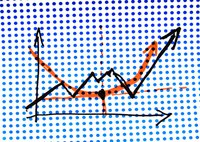 Technical indicators are mathematical formulas used by investors to indicate buy and sell opportunities in the stock market. Technical indicators are often used by short and intermediate stock traders as opposed to fundamental investors, who rely exclusively on balance sheet and qualitative issues. The best technical indicators can broadly indicate changing trends from bull, bear and sideways markets in whatever time frame the trader chooses to employ. Technical indicators are high-probability indicators of stock prices, but they are not perfect.
How Technical Indicators Work
Technical indicators work by collecting recent stock market data. The best technical indicators are moving average and stochastic oscillators. Other variations include measuring the open, high, low and closing price, and measuring volume. Daily data is typically used, and for most indicators just the closing price is necessary. The data is manipulated to give a distinct buy or sell signal. Traders often use two or more indicators. One indicator will test the long-term market, while the other, shorter, indicator tests the immediate trade at hand.
Moving Average Technical Indicators
Moving averages are the most popular technical indicators used by investors. Moving averages measure the trend of the market. Popular technical indicators include the 50-day and 200-day moving average. The computation of the moving average requires the closing price of today's data be added while the oldest day's data is dropped. When the stock price falls below the moving average line, it is sold. Buy stocks when price moves above the average.
Dual and Triple Moving Averages
A more sophisticated and reliable signal is to use more than one moving average of a stock. Moving averages will include a short-term, an intermediate-term, and a long-term market moving average, usually around 325 days. When the shorter measure crosses above the longer measures, a buy is recommended. Using two or more averages strengthens the likelihood of a reliable signal because it avoids single-average "whipsaws." Whipsaws occur when data jumps over and below the moving average, giving many buy and sell signals without a real trend ever developing.
Stochastic Indicators
Stochastic indicators measure short- and long-term momentum changes. Stock market momentum is the rate of change of stock prices typically measured by a short, 3-day average of price changes and a longer, 14-day average of volatility. A third line measures the difference between the first two measurements on a scale of 0 to 100. The result is an oscillator that generates buy signals when low averages turn above 20 and sell signals when high averages drop below 80. Stochastic indicators provide good long-term buy and sell signals.
Technical Indicators and Whipsaws
Good technical trading requires signals that can be used on a variety of stocks. Markets are often not in trends. They move in confined price ranges that will give several buy and sell signals in a short period of time before entering a sustained movement up or down. Sideways movements are expensive as they require the trader to pay commissions and absorb small losses many times that can affect trader psychology and lower investment returns. The best technical indicators use long-term trends that smooth over many whipsaws.