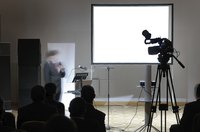 Corporate training programs often employ several media, including video, to improve the training's effectiveness. Video training can be used as a stand-alone tool with no trainer present, or can be a supplemental aid with a live trainer to enhance interactive training sessions.
Video's Portability
Because it requires only a playback device and a viewing screen, video is highly portable. Most trainers utilize a portable projector and laptop for larger groups, but a laptop alone will suffice for individuals and smaller audiences. This allows the training facilitator to travel to different locations and quickly set up and break down equipment, or convert an office or other room into an instant training facility. If older VCR technology is employed, a television and VCR are all that is required but they are generally not as portable as modern machines.
Video Delivers Consistency
Video delivers the same content to all viewers, whether a small group in one office or hundreds of large groups in auditoriums nationwide, and regardless of the trainer. When used in facilitated interactive sessions, the trainer is able to comment and clarify points within the video presentation and allow attendees to ask pertinent questions. In large organizations where different trainers facilitate the same course, video ensures that the same content is presented despite differing personal training styles.
Cost Effectiveness
The use of video training materials allows you to plan and predict training session times accurately, saving you and your employees valuable work time. Costs to produce your own videos vary, but if such costs are not in your budget, you may purchase, rent or lease video trainings. Used properly, video can cut training times considerably especially if it doesn't require a live facilitator.
Detailed Modular Information
Video can present large amounts of detailed information in a finite, condensed form. In addition, when properly produced, video eliminates or reduces confusion and questions that sometimes arise when written or spoken information is used during presentations. Video also allows you to compartmentalize information contained in training sessions, giving you further control over the content and timing of training sessions. A well-planned training program using video can employ scheduled employee sessions, presenting them with information pertaining to their specific job on an as-needed basis or as part of a comprehensive program.