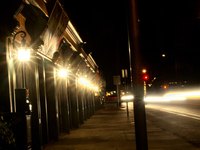 Traditional real estate rules say that a home on a busy street means that the property's value typically will be lower than similar homes in more secluded areas. While this caveat often is true, sometimes a busy road is a benefit. It's important to speak with a real estate agent and an appraiser when considering the benefits and drawbacks of purchasing a home on a busy road.
Price
A home on a busy street is a drawback in most areas. According to real estate appraiser Wayne Wallace, 10 to 12 percent is deducted from the value of a home sitting on a busy thoroughfare. Comparable homes in the same neighborhood that are set back from the main road fetch more favorable offers because they are safer and quieter.
Location
Whether or not a busy street affects you home's value depends on what part of the country you live in. In some cities, living on a main road is seen as a plus. In San Francisco, for example, a two bedroom, two and a half bath condo at one of the city's most dangerous intersections, Gough and Franklin, was listed in October 2010 for nearly $800,000. The busy street was advertised as a benefit because of its proximity to public transportation.
Benefits
You may be able to market the benefits of living on a busy street to improve the value of your home. For example, if your home's location means buyers can walk to restaurants and shops, this can be seen as a plus. Busy thoroughfares also may mean easier access to the interstate, which commuters often find as a positive.
Considerations
You may be able to block out the noise on a busy street with double paned windows and deal with other nuisances such as lacking privacy in some areas. However, you also must consider the elements you cannot change such as air quality and road construction. While you may be able to eliminate or ignore the annoying factors of living near a main road, the Environmental Protection Agency is looking into the effects of air pollution on children living near high traffic thoroughfares. As of January 2011, the findings of the project launched in July 2009 have not been reported. Still, the possible health consequences for you and your family are worth considering.