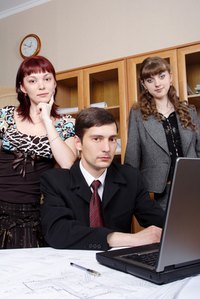 Low workplace morale can have serious implications for an organization. Employees who experience low morale may miss work more frequently and perform below their capabilities. They can also have a detrimental effect on those around them. A number of factors can lead to poor workplace morale, and it is not always easy to pin the cause on any one single factor.
Poor Communication
Poor communication often occurs when supervisors fail to keep workers "in the loop" about organizational changes that affect their jobs. Information that is spread through the grapevine before management confirms it makes employees feel as if they are the last to know and unimportant. Poor communication between co-workers, such as when one salesperson handles a situation that arises with another salesperson's customer, can lead to tension, which can lower morale if not addressed by management in a timely manner.
New Management
When a popular manager is replaced by one who is more strict or who possesses poor people or leadership skills, the morale of an entire department can suffer. A new manager who implements more of a closed-door policy for dealing with individual issues, compared with her predecessor, may also inadvertently lower morale. Management change on a larger scale can negatively impact morale, such as when new company ownership attempts to implement unpopular organizational policies and procedures.
Lack of Movement
Employees who feel as if there is no room for advancement in their present position may feel trapped and frustrated, which can lead to bitterness. One negative attitude can infect a whole department, especially one where employees rely heavily on one another to complete assigned tasks. An employee who has been passed over for a promotion can also have a negative effect on a department if the promoted person is now the head of or assumes a leadership role in the department.
Incompetent Leadership
Situations can occur when a manager is unable to handle a leadership position, either because of a lack of training or a lack of essential leadership traits, such as strong decision-making skills. Employees who work for an incompetent leader may feel as if they are on a "rudderless ship" with no discernible direction. The failure to make timely decisions can cause frustration among the employees and lead to confusion over what tasks need to be accomplished and which ones should be given priority.