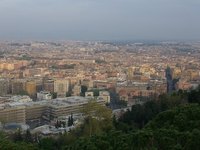 When it comes to shopping, Rome is not as famous as Florence or Venice, but there are still plenty of window-shopping opportunities for the Italian traveler. In Rome, a store's hours of operation vary by day of the week, with a midday lunch break across the city for all stores. Plan for a history or sightseeing day on Sunday, the one day of the week closed to shopping in Rome.
Hours of Operation
In Rome, shops are open from Monday through Saturday. Shops open at a leisurely 9:30 or 10 a.m., and close around 7 or 7:30 p.m. While not observed by every shop in the city, many stores close for lunch from 1:30 p.m. to 3 p.m., a practice observed throughout most of the city.
Sundays and Mondays
On Mondays, some stores will open for morning shopping, but the majority of shops will not open until 3:30 p.m. and will close around 7:30 p.m. If a shop is open on Monday morning, the lunch hour is still observed. The only stores in Rome that stay open on Sundays are socially-popular bookshops and clothes shops, such as Campo dei Fiori. Sunday hours for these crowd hot spots are usually 10 a.m to 7 p.m., or 3 p.m. to 7 p.m.
Summer Exceptions
In the summer in Rome, most shops extend their afternoon hours from the normal post-lunch 3 to 7:30 P.M., to 4 to 8 P.M., leaving a little bit of extra shopping time for the influx of summer shoppers. To accommodate the many vacationers in the month of August, most shops and restaurants close for the last two weeks of the month, starting around Aug. 15.
Grocery Stores and Markets
If you want to save on restaurant costs and need a quick grocery store run, the hours of operation are similar to the shops, but on Thursdays, grocery stores close in the early afternoon. Markets, which draw large, outdoor crowds in the center of the city, are open from Monday through Saturday, 7 a.m. to 1 p.m.