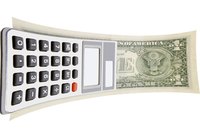 Budgets are estimates of how much you will spend during a specific time period. They help you review how and where you spend your money. You may have a weekly, monthly or yearly budget, or one of each. No matter the type of budget or your personal financial circumstances, there are common categories all effective budgets share.
Income
The first step is to establish how much money you have, and how much money you will earn. The easiest way to do this is to factor your income after taxes are taken out of your paycheck. If you are self-employed or work on commission, you may earn an irregular amount of money. If so, it's best to estimate a typical weekly, monthly or annual amount—and use as conservative an estimate as you can. It's better to have more money than to find yourself with a shortfall.
Fixed Expenses
These are the expenditures that never change—you know you'll have to pay a similar amount every month. They include mortgage or rent, insurance premiums, car payments or other transportation costs, television, Internet and telephone service. You may also be responsible for minimum credit card payments, alimony or child support. Because these expenses are consistent, you know the payment amounts should be the same every month. If you make quarterly, bi-annual or yearly payments for insurance premiums, you may wish to budget a specific amount each month toward that total, or factor the expense in for each month the payments are due.
Variable Expenses
Some variable expenses will happen every month. This includes groceries, utilities, gas, personal items, entertainment and gifts. While you can't always anticipate what these expenses will be, a budget allows you to review what you've spent in the past and make an educated projection of what you may spend in the future. For example, if your gas bill was $30 in July but was $100 in December of last year, you can anticipate it will be similar in the future. You can also do the same with months when you need to buy gifts for birthdays or holidays and set a spending limit for yourself using the guidelines of what you've spent in the past and what money you will have available to spend. You may also have variable expenses if you plan to pay more than the minimum on your credit cards or other fixed expenses.
Savings
Every budget needs at least one category for savings. Financial expert Suze Orman recommends everyone save at least eight months of personal expenses in an FDIC-insured bank account. You can have your savings deducted automatically from your paycheck—and may even consider starting your budget from the sum you have after your savings account is paid. Some people may have multiple categories for different types of savings. For example, you may be saving $100 a month for your Christmas gift fund, $50 a month for your vacation fund and $25 a month toward a new computer. You may elect to lump all savings together in one category, or break each one down so you can see your results. Your bank may allow you to set up separate accounts for each savings goal, making it easier to track your progress.