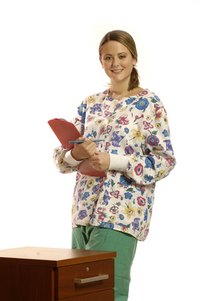 Nurses help doctors treat patients, educate the public on medical issues, and provide emotional support for patients and their families. They may work in hospitals, doctors offices, clinics, factories, schools and businesses. Formal training is required, ranging from a diploma from an accredited nursing program to a bachelor's degree. The U.S. Bureau of Labor Statistics (BLS) divides the field into two types: registered nurses and licensed practical nurses, each with differing salaries and employment prospects.
Registered Nurses
Registered nurses (RNs) create and implement nursing plans through discussions with physicians and examining patient needs. They keep patient records and take care of the sick, injured or disabled. As of May 2009, the median salary was $63,750 yearly, with a range of $43,970 to $93,700. Those working part time earned $30.65 per hour, with a range of $21.14 to $45.05.
RN Employers
The biggest employers of registered nurses are general medical and surgical hospitals, which have 56 percent of the total 2.5 million RN jobs. They pay $32.57 an hour, or $67,740 a year, which is slightly better than the median. The highest-paying employer is medical equipment and supplies manufacturing, where RNs use their expertise to demonstrate the correct uses of medical devices and to sell them. This industry pays $37.44 or $77,870, but only offers approximately 50 positions, making it difficult to break into.
Licensed Practical Nurses
Licensed practical nurses (LPNs), also known as licensed vocational nurses, take care of the sick, injured or disabled, under the supervision of physicians or registered nurses. The amount of supervision required differs by state. Full-time LPNs make a median salary of $39,820 annually, with a range of $28,890 to $55,090. Those working part-time earn $19.14 per hour, with a range of $13.89 to $26.49.
LPN Employers
The workplaces that hire the greatest number of licensed practical nurses are nursing care facilities, with almost 30 percent of the available 728,670 LPN jobs. They pay $20.34 or $42,320, which is higher than the median.