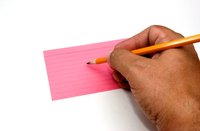 If you're looking for a job as an ESL teacher, you're likely to encounter interview questions about your English skills, teaching philosophy and ambitions. Anticipating typical interview questions and thinking about your answers ahead of time can help you avoid nervousness and ace your interview, whether you're interviewing at a college, K-12 school or private company.
Questions About You and Your Experience
Generally, potential employers begin their interview with questions about you, your personality, your hobbies and/or your career history. Some common questions include: "Tell me about yourself"; "Tell me about some of your strengths"; "Tell me about some of your weaknesses"; "How did you get interested in teaching?" "What do you like about being an ESL teacher?" "Where do you plan to be in two, five, or 10 years?"
When they ask you these questions, potential employers are assessing both what kinds of answers you give and how you deliver those answers. Generally, employers use these questions to gather essential facts, such as how long you've been teaching or what populations you work well with, as well as to gauge your personality, determining whether students will respond well to you and whether your personality fits into the culture of the organization. According to ESL Teacher Reference Desk, you should use these questions as an opportunity to discuss strengths and expertise that you didn't include on your CV. Also, discuss areas of skill and expertise that correspond to your potential employer's goals or mission statement, often its website. According to Heads Up English, employers often ask questions about your future to determine how long you anticipate working at the job.
Questions About Your Teaching Philosophy
According to ESL Teacher Reference Desk, two common ESL teacher interview questions include "Tell me your teaching success story" and "How do you teach?" The University of California website also lists questions about theory, approaches to different types of subject matter, assessment, participation and student response among popular interview questions for ESL teachers. In answering these types of questions, be as specific as possible and give examples whenever you can. Employers want to know that you are a thoughtful and reflective teacher, so show that you exercise great thought and weigh many options when determining what methods to bring into your classroom.
Questions about Technology
Both the ESL Teacher Reference Desk and the University of California website note that ESL interviewers often ask teachers about how they use technology in the classroom and how comfortable they are using technology. Because many English classes are offered online, many ESL programs require the use of a computer or Internet program, and more and more students prefer learning with technology. Employers want to be sure that you're capable of working in this kind of environment. If you have a great deal of experience using technology, think of a few examples that show the range of your technology and problem-solving skills. If you don't have much experience using technology, think of an answer that shows your willingness to learn.
Your Questions
At the end of most interviews, most employers will ask if you have any questions to ask them. According to TEFL Net, the questions you ask could make all the difference. Confidently asking an informed question about the school and teaching experience (not about pay or vacation time, for instance) can help seal the deal. Some of the questions TEFL net recommends regard curriculum, staff meetings, class demographics and class size.